NCFD celebrates 100 years of domestic filmmaking
Executive director Jack Blum and artistic director Sharon Corder on how the annual event is changing the conversation around Canadian film.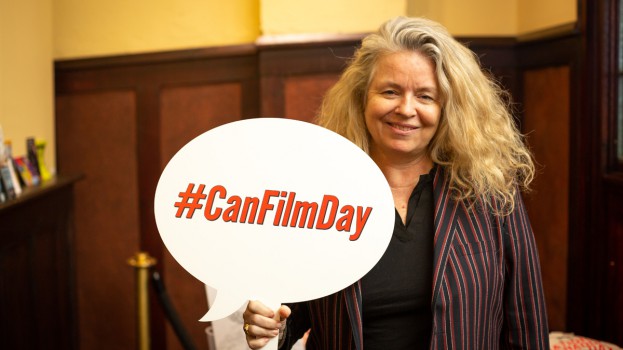 National Canadian Film Day has come full circle in 2019 for Reel Canada's executive director Jack Blum. His love for film began at a local Hamilton theatre called The Westdale, first opened in 1935, where he would find a way in through the back alley to watch indie films. The theatre underwent a massive renovation in 2017 and opened its doors in February 2019 as an arts and culture hub.
Blum and artistic director Sharon Corder learned not too long ago that The Westdale will hold its own National Canadian Film Day event, hosting a screening of Sarah Polley's Away From Her.
Now in its sixth year, the National Canadian Film Day has taken on a life of its own. There are more than 1,000 screenings scheduled on April 17 and those are just the screenings organized with Reel Canada. Corder says they continue to hear about screenings, such as the one planned at the Westdale, that have been organized completely independently. "People really believe in this idea that it's National Canadian Film Day," she says.
Reel Canada estimates more than 70,000 people will attend live screenings this year, and not just in Canada. Blum says they're aware of at least 65 international screenings in 23 different countries happening as well.
The theme for this year is "celebrating 100 years of snow and sass," based around the 100-year anniversary of legendary Canadian filmmaker Nell Shipman's Back to God's Country, considered to be Canada's first blockbuster. Shipman's film is among 100 spotlight films selected for screenings that, according to Corder and Blum, exemplify Canada's "snow and sass."
"It gave us an opportunity to talk about how there's a body of work here," says Corder. "We've been doing this for quite a while and have quite a few wonderful movies to embrace."

Among the films under the spotlight: Patricia Rozema's (pictured) I've Heard the Mermaids Singing (1987), which won best first feature when it premiered at the Cannes Film Festival, Jean-Marc Vallée's indie blockbuster C.R.A.Z.Y. (2005), and Jacob Tierney's award-winning The Trotsky (2009).
Corder and Blum say they created National Canadian Film Day to show that Canadians want to see domestic film if given the chance, and the volume to which it's grown is proof. The struggle to get moviegoers to watch Canadian films the rest of the year falls on the lack of access to independent films, says Corder. "I suspect, in the history of Canadian film, that one blockbuster film [in the U.S.] probably equals every marketing budget we've ever had."
It's the programs that go beyond National Canadian Film Day that add to the impact. Reel Canada hosts film festival events in high schools year-round, as well as their Indigenous Film Programme, which gives students access to films made by Indigenous filmmakers. It's that level of discovery that has made a difference to participating filmmakers, according to Corder.
This year, high schools across the country are taking part in screenings of Kayak to Klemtu and Remember, followed by a livestream Q&A with Remember director Atom Egoyan and Kayak to Klemtu director Zoe Hopkins and actor Jared Ager-Foster.
"It's not entirely due to us, but I think we've been an important part of a change in the conversation," says Blum. "People feel more allowed to say they like Canadian films."