In brief: Canadians get Peabody noms, New York tax credit renewed
Plus: Toronto distributor Juice Worldwide expands into post-production services and CBC Gem unveils a new partnership.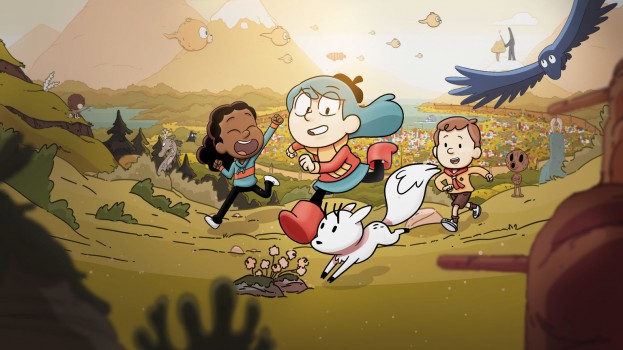 Two Canadian projects up for Peabody awards
Animated series Hilda and documentary POV: The Apology have been nominated for a Peabody award. Hilda, coproduced by Ottawa-based Mercury Filmworks and the U.K.'s Silvergate Media for Netflix, follows the fairy tale-esque adventures of a blue-haired girl as she travels through forests full of elves to the city of Trollberg. POV: The Apology, coproduced by the National Film Board and American Documentary, tells the story of three women sold into sexual slavery to the Japanese military in World War II. Of the 60 projects nominated, 30 will be selected as winners at a May 18 award ceremony in New York.
New York tax credit continues
A $840 million deal has been struck to renew New York's film and television tax credit, following comments from governor Andrew Cuomo that the credit would be cut. Cuomo told reporters in March that the Senate would be "wholly consistent" in cutting the tax incentive in the aftermath of the cancelled Amazon HQ in Brooklyn, according to the New York Post. In spite of the comments, a provision was included in the state's budget that the tax credit would be renewed into 2024.
Juice adds post-production services
Distribution company Juice Worldwide, part of Amdocs Media, has expanded into post-production services. Its recently-opened L.A. office has now been updated with Dolby Vision-certified editing suites, offering services such as colour-correcting, re-recording and mixing, sound design, voiceover, graphics and laybacks. The move to post-production is part of an effort to streamline end-to-end services for customers, according to Amdocs Media head Darcy Antonellis in a statement. Juice CEO Andrew Buck told Playback Daily that the company is currently in talks with Canadian content partners to provide post services, with endpoint fulfillment provided out of their Toronto office.
CBC Gem partners with NSI
The National Screen Institute (NSI) has announced a partnership with CBC Gem. The pubcaster's streaming service will provide support for the training program NSI Features First, which helps creators produce their first or second feature film. CBC Gem will also support initiatives such as NSI Online and the NSI Online Short Film Festival. The partnership augments support CBC has already provided NSI through their sponsorship of the CBC New Indigenous Voices program.