Deals: Corus, PNP, Breakthrough, Gusto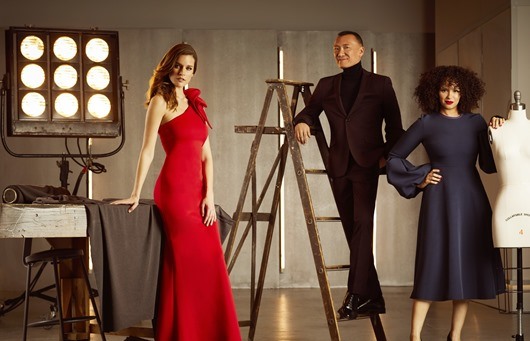 Corus inks its first deal for fashion competition series Stitched (pictured), while PNP picks up the Canadian rights to TIFF's 2018 closing night film, and more.
Corus Studios
Corus Entertainment's Studios division has announced a raft of sales ahead of MIPTV next week, including a first-time sale for its fashion competition series Stitched (12 x 1 hour, Forte Entertainment in association with Corus Studios for Slice). Hosted by Canadian fashion model Kim Cloutier, Elle Canada editor-in-chief Vanessa Craft and stylist Joe Zee, the series sees four contestants as they compete in various themed challenges to win a $10,000 prize. Introduced prior to MIPTV last year, the series has been sold to Fashion.il for Israel.
Domo+ also picked up season one and two of Backyard Builds (22 x 30 minutes) and $ave My Reno (28 x 30 minutes) for Poland. Produced by Frantic Films in association with Corus Studios for HGTV Canada, Backyard Builds follows contractor Brian McCourt and design expert Sarah Keenleyside as they transform backyards into custom builds. Meanwhile, $ave My Reno from Great Pacific Media sees contractor Sebastian Clovis and designer Sabrina Smelko give homeowners their dream renovation on a budget. $ave My Reno is produced by Great Pacific in association with Corus Studios for HGTV Canada.
Additionally, Nine Network nabbed season one and four of Masters of Flip (18 x 1 hour, including one special) and season two of Worst to First (10 x 1 hour) for Australia. Masters of Flip, produced by Rhino Content for HGTV Canada, follows duo Kortney and Dave Wilson as they turn real estate disasters into stunning dream homes. Nine Network previously picked up season of the reno show. Season one and two of Great Pacific Media's Worst to First has also been sold to South Africa's Home Channel. Produced by Great Pacific in association with Corus Studios for HGTV Canada, the show sees contractor-best friends take on the worst house on the block into the most desirable home on the street. Earlier this week, Corus announced it had acquired Kin Canada's operations and greenlit three new unscripted series.
Pacific Northwest Pictures
Pacific Northwest Pictures (PNP) has acquired the Canadian rights to writer/director Justin Kelly's JT LeRoy (Canada/U.S./U.K.). Based on Savannah Knoop's book Girl Boy Girl: How I Became JT Leroy, the drama follows the true story of a woman who finds success through her literary alias JT LeRoy. Produced by Buffalo Gal Pictures, Elevated Films, The Fyzz Facility, Ingenious Media, Aquarius Content, Fortitude International, Sobini Films, Thirty Three Management and LBI Entertainment, the film was recently selected to serve as TIFF's 2018 closing night film. PNP will release the film in Canada starting on May 3, 2019, while Universal Studios will release the film in the U.S. PNP's Emily Alden negotiated the deal with Nadine de Barros, co-founder of Fortitude International. JT LeRoy stars Laura Dern, Kristen Stewart, Diane Kruger, Jim Sturgess and Courtney Love.
Breakthrough Entertainment
Breakthrough Entertainment has acquired 52 hours of unscripted content from Farpoint Films and picked up the rights to two of the prodco's upcoming series. Breakthrough has obtained the worldwide rights to Farpoint's true crime docudrama Cruise Ship Killers (26 x 1 hour) and the Canadian distribution rights to My Misdiagnosis (26 x 1 hour). My Misdiagnosis features two stories about incorrect diagnosis's from medical professionals. Meanwhile, Cruise Ship Killers follows the story of a person who went missing on a cruise ship, tracking the story through interviews with family, friends and investigators. The series is expected to start production sometime early this year.
Gusto Worldwide Media
Ottawa-headquartered Gusto Worldwide Media has sold its baking series Flour Power (26 x 30 minutes) to 4K Universe in the U.S. and 24 Kitchen in the Netherlands. Set in a retro kitchen, Flour Power follows host Jessica McGovern as she makes three baked desserts. The series is currently available in over 65 international territories. In December, Gusto announced that it had sold season one and two of the show to South Korean pay-TV channel UMAX at the Asia TV Forum.