The road to Paramedics: Life on the Line
Erin Haskett discusses building Lark Productions' relationship with BC Emergency Health Services and Knowledge Network to bring the docuseries to life.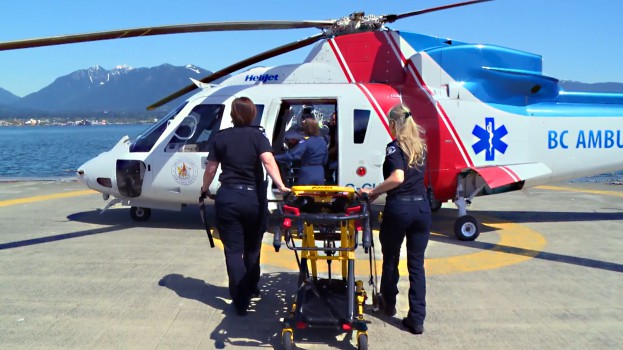 When B.C.-based public broadcaster Knowledge Network and Lark Productions released the medical docuseries Emergency Room: Life + Death at VGH in 2014, the two quickly discovered they had a hit on their hands.
Tracking the story of medical professionals in Vancouver General Hospital's emergency room, one of B.C.'s busiest emergency departments, the show became the biggest documentary series to ever debut on the network, attracting 192,000 (2+) viewers on linear and over 100,000 video plays on its premiere episode. Following the success of the six-episode first season, the provincial pubcaster greenlit the series for a six-episode sophomore season and two holiday specials.
In addition to Emergency Room's stellar ratings, Knowledge Network president and CEO Rudy Buttignol told Playback Daily that it felt like the series had been seen by everybody in the province over the course of the show's run and re-run. That success, he explained, led to discussions about a "prequel" series focused on what happens before people get to the hospital.
The journey to screen has been a long one for the prequel, Paramedics: Life on the Line (10 x 1 hour), according to Lark Productions' president Erin Haskett. "It required the building of trust that first started at the executive level at BC Emergency Health Services (BCEHS), at Knowledge Network and [Lark]," said the exec producer.
Part of the success of Emergency Room, according to Haskett, was having a knowledgeable crew and support from the public, two elements the company tried to recreate with Paramedics.
Even before Lark's crews could get going, there was an emphasis on building the production company's relationship with BCEHS and the community, she noted. The team did this by organizing pre-production ride-alongs (to work out the filming logistics) and setting up conversations with a variety of experts like privacy consultants, safety experts and lawyers. The strategy also included outreach to hospitals, paramedics and firefighters to ensure frontline workers understood how Paramedics' production crews would operate.
The fruits of this labour come to life today (April 2) at 9 p.m. PT on Knowledge Network, with the series making its world premiere on the pubcaster's linear channel. Knowledge also recently launched a revamped mobile app to coincide with the show's debut, introducing 41 original short-form digital videos before the show's premiere.
In preparing to take on Paramedics, Lark also saw an opportunity to collaborate with past Emergency Room crew, tapping into their previous training and using their experience to add more credibility to the project. Additionally, Haskett said, the prodco tried to prep the crew through rigorous training, which sought to make them as comfortable as possible before walking into potentially difficult and dangerous situations.
Shooting the show didn't come without its challenges either. Compared to past Lark productions, Haskett notes that Paramedics was a different beast since paramedics schedules are always changing, making it difficult to cast the series. Instead, the production crew took a "fly on the wall" approach to shooting, being given the opportunity to follow upwards of 40 pairs or singles of paramedics, dispatchers or specialists as they encountered medical situations. "We were really fortunate to have such a great group of people who were willing to let us follow them. They were not obligated in anyway. It was sort of like, if you're interested, this team is doing this," said Haskett. This observation-focused approach also meant that the crew had to occasionally deal with logistical challenges, since a crew could potentially start their morning with a paramedic in Vancouver and end up in Whistler by the end of the day.
In terms of target audience, Haskett thinks Paramedics will appeal to both Canadian and international viewers due to the universal appeal of content based around healthcare and emergency medicine. The exec producer also said she hopes the series taps into interest in authentic documentary storytelling, in addition to capturing human connection – something she personally looks for in stories. "I don't think there's more human connection [than] in a moment where you don't want to see someone show up at your door – and they show up at your door both with professionalism and with compassion, and we get to see that unfold," she says.
Exec producers on Paramedics include Haskett, Buttignol, Lark's Louise Clark and outgoing Knowledge Network exec Murray Battle. David Moses serves as series producer.