CSAs '19 highlight a new generation of Canadian filmmaking
Feature film debuts Firecrackers and Une colonie took home big honours as the Academy recognized emerging voices and the night's winners celebrated Canada's inclusivity.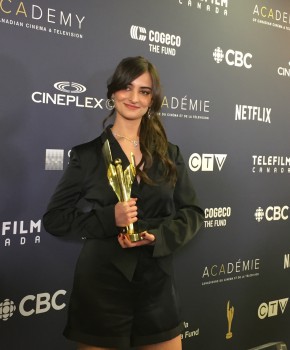 The Canadian Screen Awards gave a glimpse of the future of Canada's film and television industry at the Sony Centre for the Performing Arts Sunday night.
While the ceremony paid tribute to many Canadian icons, including comedian Mary Walsh and the Kids in the Hall troupe, as well as filmmaker Deepa Mehta, the Academy set a clear tone that there's a new generation of Canadian voices already making their mark.
Among the most notable winners was Jasmin Mozaffari (pictured), who earned Achievement in Directing for her feature film debut Firecrackers. The film was partially funded through Telefilm's micro-budget program, which was rebranded as Talent to Watch in 2018 in a move to highlight new and underrepresented voices in Canadian film. In the press room, following her win, Mozaffari said her inspiration comes from her fellow female directors. "Women of different diverse backgrounds, all across the board, no matter what, and pushing the boundaries in their own work," she said.
Mozaffari told the press room that in addition to looking ahead to a follow-up feature to Firecrackers, which opened in theatres March 29, her next goal is to break into TV directing. "That's a way to make a living, to be a working director. I feel like you always have to be proving yourself – you always have to be showing people that you can do a new format, like TV," she said.
The Academy continued to honour new voices in film as Une colonie ("A Colony"), the feature film debut from documentary filmmaker Geneviève Dulude-De Celles, picked up Best Motion Picture. The film also picked up awards for best first feature and an acting award for its 14-year-old lead Emilie Bierre. Elsewhere, 21-year-old Theodore Pellerin won best leading actor in a film for his role in Sophie Dupius' Chien de garde ("Family First").
The generational tone was set by the winners themselves as well. If Beale Street Could Talk star Stephan James, who won the first-ever Radius award for Canadians making waves abroad, dedicated his award to Canada's black youth. James and his brother Shamier Anderson, who presented the award, referenced the BLACK (Building a Legacy in Acting Cinema and Knowledge) ball, a gala event they founded to help mentor and provide networking opportunities to younger, diverse generations.
The night also emphasized the importance of representation and Canada's unique role on the world stage. Billy Campbell, who won for his leading role in Cardinal, began the first speech of the night with a tribute to Northern Ontario, where the series is filmed, and emphasized Canada's inclusive nature.

Lifetime Achievement Award winner Deepa Mehta shared a similar sentiment, noting that Canada has offered her the "embrace of belonging" and that her lifetime of work highlights "tolerance, understanding and accepting of the other."
The #FightForWynonna also held the Canadian Screen Awards spotlight for a moment when Wynonna Earp star Dominique Provost-Chalkley won the audience award. The actor, who plays an LGBTQ character in the series, referenced the ongoing social media – and billboard – campaign to end the production delay on season four, saying how the fans, called "Earpers," are fighting for, "so much more than a show. They're fighting for the right for representation."
The night closed with a Best Comedy win for Schitt's Creek, with co-creator Daniel Levy discussing the show's stance on not depicting racism or homophobia in its storylines. "Our goal is to shine a light that asks the question, 'Wouldn't we all be happier if we were able to love out loud?'"