'The practice of seeking Indigenous input is often disrespectful': report
Featuring input from filmmakers such as Tasha Hubbard (above), an ImagineNATIVE report calls for a new approach to the industry's relationship with Indigenous storytelling.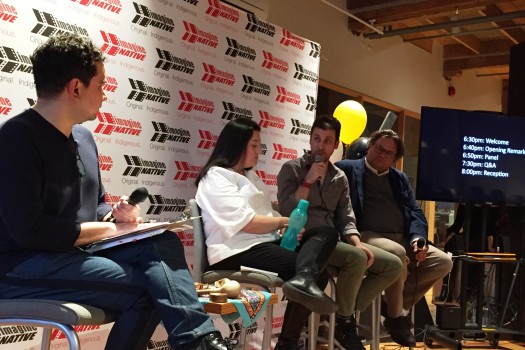 ImagineNATIVE has released what it calls a "years in the making" document that aims to provide a framework for collaborations between Indigenous and non-Indigenous individuals, companies and organizations across Canada's screen industries.
The document, titled "On-Screen Protocols & Pathways: A Media Production Guide to Working with First Nations, Metis and Inuit Communities, Cultures, Concepts and Stories," seeks to foster greater respect between Indigenous creatives and the wider industry, and tackles issues including the consultation process, intellectual property and cultural appropriation. It was prepared by independent consultant Marcia Nickerson, who previously compiled a report making the case for the Indigenous Screen Office. The creation of the document was inspired by Screen Australia's 10-year-old Indigenous protocols report.
A common issue highlighted by participants was that they had been "inundated with requests" to serve as consultants on projects written, directed and produced by non-Indigenous people, many of which were already close to completion. The general consensus, said the report, is that productions should move towards meaningful collaboration between Indigenous and non-Indigenous individuals, as well as prioritizing Indigenous narrative sovereignty.
"The prevalent and ongoing practice of seeking Indigenous input is often disrespectful. Sending an email to ask questions postproduction – it's not even consultation. And consultation is not what we want either," notes filmmaker Tasha Hubbard. "What is needed is engagement from the beginning, during the research, in the development stage. It is active listening as a practice, and taking the time to ensure you have got it right."
Additionally, lack of Indigenous representation across funding agencies, broadcasters, distribution companies and festivals has led to Indigenous creators facing a "culture gap," said the report. Indigenous writers, directors and producers also similarly cited a lack of understanding about Indigenous content, stories and processes as barriers to developing and producing content within the larger community. "Some filmmakers reported that they had received the critique that their content was too niche and specific, and in other cases not specifically 'Indian' enough… As a result, filmmakers reported being asked to repeatedly confirm to non-Indigenous preconceptions about what is commercially viable," said the document.
When it comes to discussing issues around cultural and intellectual property, "On-Screen" said that industry practices can be at odds with Indigenous values, with most Indigenous writers/directors being asked to often sign away story rights in order to access funding. Additionally, Canada's Copyright Act only protects intellectual property for individuals, not communities, which is inconsistent with Indigenous heritage.
"…Our stories are older than 75 years already – so southerners consider it public domain already. We have more responsibility to respect where it comes from and who is telling it. Most important is that we are not robbing future generations of our history but setting it up for future generations to have creative freedom to tell stories, without messing up the original story," said Angry Inuk filmmaker Aletha Arnaquq-Baril.
Funded with the support of Ontario Creates, the NFB, the CMF, Telefilm Canada, Creative BC and the Inspirit Foundation, the guide is made up of more than 25 interviews with Indigenous creators; insights from engagement sessions in Winnipeg, Vancouver, Toronto, Montreal, Iqaluit and Saskatoon; and a youth focus group facilitated by Indigenous education not-for-profit Wapikoni Mobile. "On-Screen" follows the festival's "Pathways to the International Market for Indigenous Screen Content" report, which was presented by Indigenous Screen Office director Jesse Wente at Prime Time in Ottawa earlier this year.
The report notes that the distribution model is geared towards a paid audience, therefore, "funding is often biased towards commercial release," with the model not taking into account support for festival and community screenings. Because of this, the report noted, more and more Indigenous producers/directors are looking for alternative models of Indigenous distribution to balance the mainstream and community models, domestically and internationally. These storytellers see these alternate distribution paths as a potential role for the CMF and CBC, since these organizations are obligated to assist with protecting and distributing Indigenous culture.
Ultimately, the goal of these protocols is to help address the western structures that have been imposed on Indigenous creatives, assisting with creating production practices that allow Indigenous creators to be able to tell their stories in a way that reflects their cultures and creative practices. "These protocols are not intended to create barriers for Indigenous creators by providing an exacting framework; however, the intent is to commence the development of Indigenous industry standards within the context of existing barriers," it said.
Principles like respect, reciprocity, responsibility and consent need to be upheld and placed in high regard in order to carry out the report's various protocols and vision. And instead of being considered just a guide or checklist on how to make Indigenous productions, "On-Screen" is meant to serve as a "living document," housed in the ISO and on its website, meaning that the document will be reviewed, updated and edited with input from various stakeholders on an ongoing basis.
Looking ahead, "On-Screen" said a priority is to create a new definition of what constitutes an Indigenous production. Under the current definition, two out of the three key creative positions (writer/producer/director) on a production must be held by Indigenous individuals. The report puts forth that all three of these positions should be held by Indigenous individuals in order for a project to be considered an Indigenous production.
Other recommendations include: the creation of a mandatory permit system for local film commissions to keep track of productions and enforce the report's protocols; film festivals realizing that they provide an important platform for creators and being conscious of their selections; and more allowances being made by unions in order to give Indigenous non-union members the opportunity to learn and build industry capacity.
In addition, in response to the protocols presented, "On-Screen" said it expects gatekeepers to create mid- and long-term goals in order to address some of the issues highlighted. Contributors suggested next steps should include the adoption and promotion of these protocols by various gatekeepers, as well as internal discussion around how industry stakeholders can uphold these pathways and protocols to create change.
Read the report here.