Canadians lead 2019 Rockie Awards
This year's nominees include Farm Crime, Baroness Von Sketch Show, Vice Guide to Film, and more.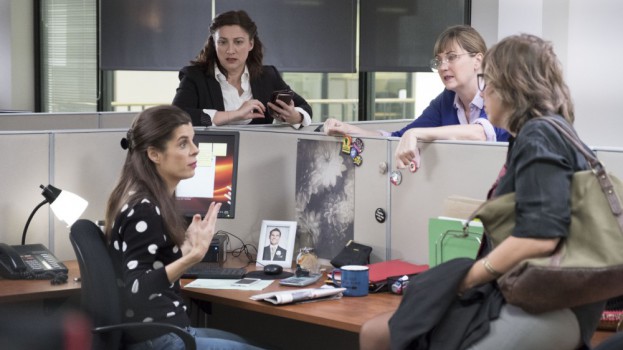 Canada is well represented at the Banff World Media Festival's Rockie Awards International Program Competition this year, with 41 nominations across the awards' 26 categories.
Held annually during the Banff World Media Festival (June 9-12, 2019), the awards honour achievements in international television and digital content. A ceremony announcing the winners will take place June 10 at the Fairmont Banff Springs Hotel.
Other countries leading the nominations include: the U.S. and U.K., which earned a total of 31 nominations each; Germany with 11; and Belgium with eight. By company, leading nominations include: BBC, with 21 nominations; A+E Network, which comprises the company's brands like History Channel and Viceland, with seven; and ZDF Enterprises with six. Both CBC and Sony Pictures Television tied with five nominations each.
Notably, Canadians dominated the Web Non-Fiction Series and Preschool Program categories with near-sweeps.. 9 Story Media Group's Daniel Tiger's Neighborhood, Spin Master's Paw Patrol, CBC's Hope Works: Little Lights and Guru Animation Studio's True and the Rainbow Kingdom are competing for best preschool program against Sesame Workshop's When You Wish Upon a Pickle: A Sesame Street Special.
Meanwhile, Canadian projects up for the top web series prize include Farm Crime from Big Cedar Films and CBC, She's Not Funny: Breaking the Myth from North of Now Films, the NFB's True North: Inside the Rise of Toronto Basketball and Unnatural Disasters from Pink Triangle Press and The Gayest Show Ever Productions.
Canadians also had the most nominations in the Interactive Content: Children & Youth and Lifestyle Program sections, with CBC Kids News (Canada); Hotel Transylvania: Hotel Havoc (Canada/U.S.) from Biba, Sony Pictures Animation, Sony Pictures Entertainment and Nelvana; and MarcoPolo World School (Canada/U.S./U.K.) from MarcoPolo Learning, Mad Snow, KeyFrame and Beat Street.
In the Lifestyle section, Vice Guide to Film (Canada) from Vice Studios Canada is up against Employable Me (Canada) from Thomas Howe Associates, Productions Déferlantes' The Real Nature (Canada), Special Delivery (Singapore/India) from The Moving Visuals Co. and The Misadventures of Romesh Ranganathan (U.K) from Rumpus Media and BBC Two.
Canada's Frantic Films is also up for two nominations in Comedy & Variety Program with two CBC comedies: Baroness Von Sketch Show (pictured) and Still Standing. Meanwhile, Mr. D from Topsail Productions and Gerard ADHD Entertainment and Wolf + Rabbit Entertainment's Workin' Moms, two CBC shows, will also face off against one another for the title of best English-language comedy series.
Vikings (Canada/U.S.) also received a nod in the best English-language drama series section. The coventure will compete against Bodyguard (U.K), Succession (U.S.), The Innocents (U.K./U.S./Norway) and Informer (U.K./U.S.) for the award. Additionally, coventure Sharp Objects (Canada/U.S.) starring Amy Adams is up for best limited series alongside A Very English Scandal (U.K), Genius: Picasso (U.S.), Collateral (U.K.) and Ku'damm 49 (Germany).
Other highlights from the nominations include: Encore Television's Boomerang and Datsit Sphere's Too Much, which are both vying for best non-English-language comedy series; The Thrillusionists from 5'7 Films and CBC Kids earning a nod in the Children & Youth Non-Fiction category; and Trio Orange's Can You Hear Me? and The Game from TVA Films and Amalga Creations Tele scoring nominations in best non-English-language drama series.
A selection of nominees is available below. Click here for the full list.
Comedy Series: English Language
Barry
Mr. D
The Goldbergs
There She Goes
Workin' Moms
Comedy Series: Non-English Language
Arthur's Law
Boomerang
Lice Mother
Living with My Ex
Too Much
Animation: Children's
Angela's Christmas
Hotel Transylvania
The Loud House
The Star of Andra and Tati
Zog
Animation: Other
Animation Talent Evening
Corner Gas Animated
The Twist
Watership Down
Children & Youth Fiction
Free Rein
Katy
Kids of Courage
The A List
ZombieLars
Children & Youth Non-Fiction
My Life: Hike to Happiness
NightHawks
The Agents
The Dengineers
The Thrillusionists
Comedy & Variety
Baroness Von Sketch Show
Did You Get the Message?
Make Belgium Great Again
Still Standing
The Mash Report
Drama Series: English Language
Bodyguard
Informer
Succession
The Innocents
Vikings
Drama Series: Non-English Language
Can You Hear Me?
Kristina Ohlsson's STHLM Requiem
Over Water
Roseki
The Game
History & Biography
Apocalypse Never-Ending War
My Dad the Peace Deal and Me
Run As One – The Journey of the Front Runners
The Clinton Affair
Watergate
Preschool Program
Daniel Tiger's Neighborhood
Hope Works, Little Lights
Paw Patrol
True and the Rainbow Kingdom
When You Wish Upon a Pickle: A Sesame Street Special