Canadian copros selected for Hot Docs Forum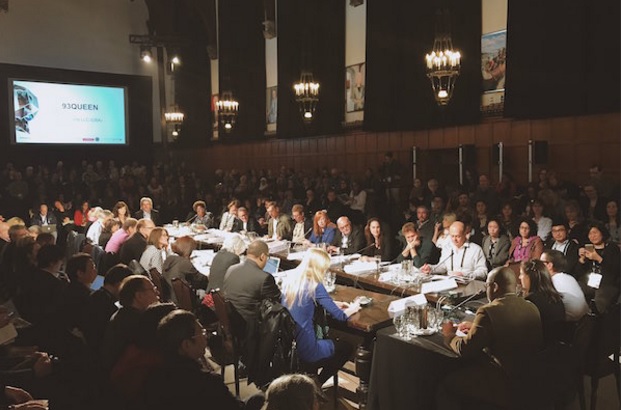 Projects from Montreal's EyeSteelFilm and Intuitive Pictures are among the 20 selected to compete in the festival's annual market.
Four Canadian coproductions are headed to the 2019 Hot Docs Forum.
Among the selected projects is Montreal-based EyeSteelFilm's Midwives (Canada/Myanmar/Germany), a project with Germany's AMA Film and Myanmar's Snow Film. The project follows two midwives, one Buddhist and one Muslim, who work side-by-side in a small makeshift medical clinic in a small region in Western Myanmar. Hnin Ei Hlaing is attached to direct, while producers on the project include EyeSteelFilm's Mila Aung-Thwin and Ama Films' Ulla Lehmann. EyeSteelFilm's Bob Moore and Daniel Cross also serve as exec producers. EyeSteelFilm's Agents of Influence with South Africa's Fireworx Media and Chronicle Productions previously took part of the Forum last year.
Out of 325 submissions, 20 projects were selected for the festival's annual international doc market and pitch event, representing 18 different countries. Each year, the Forum offers filmmakers the chance to be present their projects to a roundtable of international commissioning editors and an audience of producers, distributors, sales agents and buyers. Representatives confirmed for this year's event include Amazon Original Movies, CBC, HBO Documentary Films, Knowledge, National Geographic, ABC Documentaries, Vice and more.
Director Jeremy Xido's The Bones (Canada/U.S.), produced by Montreal's Intuitive Pictures and U.S.-based Cabula6, was also selected. The project follows the aftermath of a 2013 U.S. court case involving a 70-million-year-old Tyrannosaurus bataar skeleton from Mongolia, tracking the players with lucrative stakes in the international bone trade. Intuitive Pictures' Ina Fichman (The Oslo Diaries) serves as a producer on the project. Exec producers on The Bones include Thomas Campbell Jackson and Gerry Ohrstrom.
Other Canadian productions in the mix include director Claire Sanford's Colour of the Wind (Canada/Germany/Finland) and Twice Colonized (Canada/Greenland/Denmark) from director Lin Alluna. Colour of the Wind, from Quebec's Tortuga Films, Germany's Alias film und sprachtransfer GmbH and Finland's Mouka Filmi Oy, tracks the geographic path of dust as it blows over China, Korea and Japan and makes its journey across the Pacific. Meanwhile, Twice Colonized, from Greenland's Anorak Film, Denmark's Anorak Film Denmark and Canada's Unikkaat Studios, sees Inuit activist Aaju Peter share the story behind her political work and discuss the personal battles that motivate her.
All projects selected for the 2019 Forum will compete for the event's first look Pitch Prize, an award that distributes a total of $140,000 between three projects; the $100,000 Corus-Hot Docs Forum Pitch Prize, which went to director Lena MacDonald and producer Noah Bingham's Betrayal last year; and the Cuban Hat Award.
The Hot Docs Forum will take place on April 30 and May 1 during the Hot Docs International Film Festival.