Anne adds Indigenous storylines, characters for new season
Filmmakers Michelle Latimer and Kim Nguyen have also signed on to direct new episodes of the CBC and Netflix series. (Actor Kiawenti:io Tarbell pictured).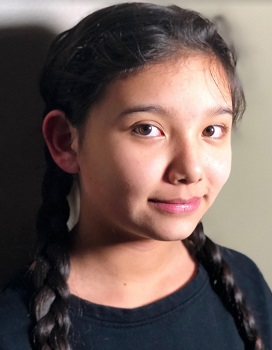 Production has begun across Ontario on new episodes of Anne with an E (CBC/Netflix), with the third season set to introduce Indigenous characters and storylines, as well as high-profile additions to the director's chair and writers' room.
The upcoming season will feature 12-year-old actor Kiawenti:io Tarbell, a Mohawk actor from Akwesasne, who portrays a Mi'kmaq girl who befriends Anne. As has become common for the series, executive producer Miranda de Pencier and showrunner Moira Walley-Beckett undertook an extensive casting search for the role, with more than 230 actors from across the country auditioning.
In addition, Indigenous actors Brandon Oakes (Through Black Spruce, Saving Hope) and Dana Jeffrey (Heartland) have been cast in the new season. The are joined by returning cast members Amybeth McNulty, who won the outstanding female performance award at last month's ACTRA Toronto Awards, Geraldine James, R. H. Thomson, Dalila Bela, Corrine Koslo, Lucas Jade Zumann, Aymeric Jett Montaz, Dalmar Abuzeid, Cara Ricketts, Joanna Douglas, Kyla Matthews, Cory Grüter-Andrew and Miranda McKeon.
Meanwhile, directors Michelle Latimer (Rise) and Kim Nguyen (The Hummingbird Project) have been tapped to helm new episodes. They're joined by returning directors Norma Bailey, Paul Fox, Amanda Tapping and Anne Wheeler.
Tracey Deer (Mohawk Girls) joins the all-female, Walley-Beckett-led writing team for season three, with Kathryn Borel Jr., Shernold Edwards, Amanda Fahey, Naledi Jackson and Jane Maggs returning.
Production on the third installment begins seven months after CBC and Netflix renewed the series, which won the best drama series prize at last year's Canadian Screen Awards. Last month, the show received 15 nominations for this year's awards.
Season three sees Anne turning 16, cementing her desire to learn more about her birth parents and family history.
The show is produced by de Pencier's Northwood Entertainment and is created by Walley-Beckett. Executive producers are de Pencier, Walley-Beckett, Tina Grewal, Debra Hayward and Alison Owen. New episodes are expected to launch later this year.