Rocket Science: The Shaw Rocket Fund @ 20
While the kids biz still faces some of its biggest challenges yet, CEO Agnes Augustin says helping producers and creators problem-solve is the fuel that fires the Fund.
With $220 million invested in 865 programs since 1998, the Shaw Rocket Fund has become far more than just a place where Canadian producers access funds. It has, in fact, become a pillar of the kids industry here, helping bring to life globally successful IP such as 2018 Oscar-nominee The Breadwinner (Aircraft Pictures and partners), Slugterra (DHX Media and Nerd Corps) and Dino Dan and Dino Dana (Sinking Ship).
As such, the Rocket Fund's respect and admiration among industry members goes far beyond the money it awards. (Though that's nice, too.) Twenty years in, it has become a champion of the kids industry as a whole, and quality children's content in particular.
"It wasn't just the money," explains Agnes Augustin, Rocket Fund president and CEO, of the fund's inception. "It was about how, if we're going to be a good investor, we need to make sure we're supporting the entire industry – making sure it has the ability to go out and make really great shows for kids."
"We've been fortunate to work with the Shaw Rocket Fund beginning with our first project Deafplanet.com in 2002. Agnes Augustin's contribution to the development of the Canadian kids' independent media business is invaluable. Her tireless championing of Canadian producers in both the international marketplace and the Canadian regulatory landscape has been beyond instrumental in helping the business grow over the last decade."
– Mark Bishop, co-CEO/executive producer, marblemedia and Distribution360
Traditionally, the Fund has sourced much of its working capital in the form of contributions from the cable and satellite companies, officially called Broadcast Distribution Undertakings (BDUs). But, as those funds slowly evaporate due to declining BDU revenues, it's had to look elsewhere.
The Fund's staff saw the writing on the wall 10 years ago, and have since been working to offset the declines. It's become much more proactive in its investment approach, working with producers to maximize investments, and balancing its portfolio of made-for-Canada programming and those intended for a global audience.
So far, the strategy has worked to maintain the status quo. But it's just one of the many issues faced by Augustin, who has led Shaw Rocket since 2004.
Let's Talk TV reduced the Cancon exhibition requirements for specialty networks, for example, while at the same time, global SVODs and AVODs have turned the market on its head. Both continue to impact kids programming, alongside traditional-revenue declines.
But, while constant industry change and the challenges it brings might be as Canadian as poutine and maple syrup, it's often accompanied by opportunity. "Let's Talk TV created a lot of challenges for the children's business," Augustin notes. "But, for the Rocket Fund and the other private funds, it added flexibility."
In 2016, the CRTC regulated that programs funded through Certified Independent Production Funds (CIPFs) no longer needed a broadcast licence to qualify for investment. Suddenly, CIPFs like the Rocket Fund could invest in coproduction or U.S. coventures that require a minimum of six out of 10 points.
"That allows the Rocket Fund to work with producers on innovative business models to help them successfully finance their programs, which often still includes a broadcaster, but not always in the traditional way," she says.
"The Shaw Rocket Fund has been instrumental in growing the Canadian kids business. Their outreach and awareness with international buyers have really helped put Canadian content on a global stage. Most recently, Shaw Rocket has supported Brain Power's Ponysitters Club, both on the production and the digital and marketing side. Their participation helped us secure a worldwide deal with Netflix."
– Beth Stephenson, founder and executive producer, Brain Power Studio."
And flexibility is critical, given the reduction in domestic kids' commissions. According to the CMPA's annual Profile report, English-language kids content production fell to $419 million in 2016/17, down from $522 million the year prior. Cancon producers have had to look for non-traditional funding models, more international partnerships and a lot more brand involvement – all relationships that the Shaw Rocket Fund can facilitate.
Examples include its recent investment in STEM-focused webseries Emerald Code with Shaftesbury and Canadian charity Let's Talk Science; Big Top Academy, a live-action series produced with Apartment 11 and Cirque du Soleil Images for Discovery Latin America and TVO; and Holly Hobbie, produced by Aircraft Pictures with Cloudco Entertainment (formerly American Greetings Entertainment), for Hulu and Universal Kids in the U.S. and Family Channel in Canada.
"The goal going forward is to maintain that flexibility and to make sure that we're very proactive in helping build those partnerships," she says. "That we're not just sitting back and expecting producers to do the work. We want to be able to help open doors for them."
To do so, the Fund fosters relationships between its prodco partners and Canadian and international buyers – such as BBC, Amazon, Hulu, Netflix, Disney, Nickelodeon, Cartoon Network and ABC Australia. By working with producers at an earlier stage of development too, Augustin says the Fund is able to offer insight based on those relationships and, if desired, some direction when it comes to putting funding together.
Beyond injecting almost a quarter of a billion dollars into the system in the last two decades, the Shaw Rocket Fund has also launched initiatives like 2016's Startoon talent search program (pictured left), and the iconic Shaw Rocket Prize (2005-2016, pictured right), which showcased the talent of Canadian producers and their content, as voted on by kids.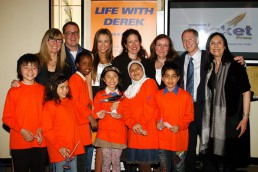 "The Rocket Prize was such a valuable initiative," she says, "and really we stopped doing it only because it was time to make it look different. We did it for more than 10 years and we created a lot of awareness through our international jury and among kids across the country about our great Canadian programs." There's a good chance it will return soon, she notes, retooled and ready for the new kids landscape.
One of the Fund's most recent initiatives is the Rocket Online Safety Program, in which all eligible Canadian digital content is given access to safety certification through the kidSAFE Seal Program. The program offers independent safety certification designed exclusively for child-friendly digital content, assuring content meets safety, privacy and security standards. Certification is offered free of charge as part of a pilot program partnership between Rocket Fund and kidSAFE Seal up until Aug. 31, 2019.
"In an ever-changing media landscape, The Shaw Rocket Fund remains a constant. It's championed multiple Boat Rocker Media productions, including The Next Step, Tee & Mo and Ollie! The Boy Who Became What He Ate. Their early support of The Next Step was a key driver that helped us build the brand into a global media phenomenon."
– John Young, CEO, Boat Rocker Media
"Being able to bring that to Canada and open it up to all Canadian producers – even if we didn't finance [their project] – for this first year is huge for us," says Augustin. "Those types of initiatives excite me the most because they allow us to again be able to take a leadership position. We're helping make sure that what is being invested in is safe for kids. The times are changing so fast, technology is changing so fast, we want to be able to give producers a tool so that they have confidence that when they go out they know that what they are creating is safe."
And while the big initiatives get all the press, sometimes it's the small things that make the most difference. For example, the recent overhaul of the Fund's application process.
"We really opened up the process to make it easier for producers – and more relevant," she says, noting the changes made the process more user-friendly but also required that creatives explain their strategies for reaching their target audience.
"You have great content for kids," she says, "but do you know how to reach them through really strong discoverability? How are the kids going to find your show or, on the partnership side, who is going to help you make this global? How are we going to help you do this? It's about really being proactive and accessible so that we can work with producers to help them have success."
"We've worked with Shaw Rocket Fund on many programs, including Camp Lakebottom, Numb Chucks and Wild Kratts. Without their support, especially during our early years, we would not be in the position we are today. They've been a tremendous voice for the kids' media sector here in Canada and a terrific partner."
– Vince Commisso, president and CEO, 9 Story Media Group
As Augustin looks forward, it's these sorts of initiatives that keep her going – tackling problems like online safety, creating new and interesting partnerships for the industry and maintaining the flexibility that allows the Fund to be more than just a writer of cheques.
"I think the Rocket Fund can be an advocate on all fronts," she asserts. "We can continue to make sure we are the voice – not just for the producers, but for the kids, the content and our sector – helping to keep it front of mind and relevant."
And as Augustin likes to point out, kids make up 22% of the population – that's a huge potential audience to serve. "There are still kids watching shows. So, it's just figuring out how to reach them. Everything we do is about ensuring we have a sustainable environment so that our kids always have access to great Canadian-made content."
This story appears in the Spring 2019 issue of Playback magazine