#FightForWynonna lights up Times Square
Wynonna Earp fans have moved beyond Twitter to launch a billboard campaign in New York City to end the production delay on season four.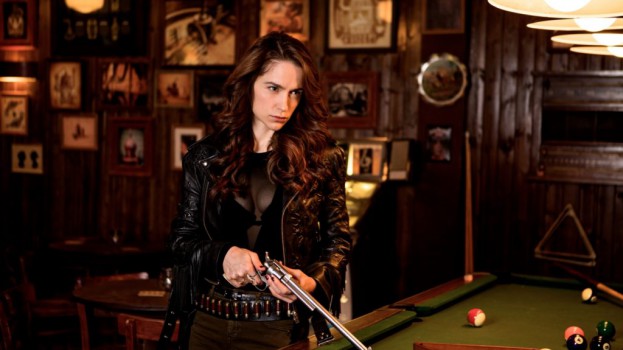 The fight for Wynonna Earp has taken over New York City's Times Square.
While there is still no word on when production will begin for Wynonna Earp's fourth season, fans have launched a larger-than-life billboard campaign to garner attention around the show's plight.
The movement was sparked with a single billboard purchased on Feb. 28, displaying the ongoing hashtag #FightForWynonna, which triggered a heartfelt response from star Melanie Scrofano.
Since then fans, better known as "Earpers," have taken over Times Square at 7th Ave and 42nd Street, holding billboard events throughout the week, with more than 30 billboards purchased as of March 6, including a thank-you billboard from Scrofano and showrunner Emily Andras.
The majority of billboards purchased have been through company Big Sign Message, which advertises itself as the first DIY instant sign. Prices for these signs vary depending on the length of the screen time, with 15 seconds as the minimum and two minutes as the maximum, which runs up to US$169.50 per ad. The Wynonna Earp movement has attracted so much attention that the company has released its own "Earper" promo code, the first time the company has ever created a promo, offering up to 18% off per ad.
Production on Wynonna Earp season four was scheduled to start the week of Feb. 18, but has since been on an indefinite delay. U.S. broadcaster Syfy has confirmed they are committed to a fourth season, while international distributor IDW confirmed to Playback that they are "working out the details" for its future, but has yet to confirm when production will begin. The series, produced by Seven24 Films, airs on Bell Media's Space channel in Canada.
This is fine, this is normal for #cdntv. #FightForWynonna #WynonnaEarp pic.twitter.com/E37nvDGBpN

— Emily Andras (@emtothea) March 4, 2019