Canadians to unpack LGBTQ+ representation at SXSW
As part of a panel on queer fandoms, Shaftesbury will unveil a new feature-length documentary, Queering the Script, directed by Gabrielle Zilkha.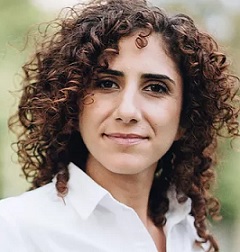 Canada will be in the spotlight at SXSW discussing issues of LGBTQ+ representation and queer fandom.
As part of the spotlight, Shaftesbury will unveil a new feature-length documentary that explores LGBTQ+ representation in media and how fans connect with creators and stars.
The prodco has partnered with Hollywood Suite on Queering the Script, directed by Toronto filmmaker Gabrielle Zilkha (Stop Calling Me Honey Bunny, pictured) and featuring interviews with showrunners, talent and producers including Lucy Lawless (Xena: Warrior Princess), Stephanie Beatriz (Brooklyn Nine-Nine), Gloria Calderón Kellett and Mike Royce (the co-showrunners of Netflix's One Day at a Time) and Ilene Chaiken (creator of The L Word). Filmed at various fan events across North America, the doc also features interviews with members of various queer fandoms.
A sneak peek of Queering the Script will screen tomorrow, on International Women's Day, during the panel at SXSW. The discussion, presented by Shaftesbury, Wattpad and Telefilm, will explore the power of queer fandoms.
The doc, set to air on Hollywood Suite this spring, is the most recent in a number of deals between Hollywood Suite and Shaftesbury. Hollywood Suite was the Canadian broadcaster for Shaftesbury's Carmilla movie, which made its TV debut in January 2018. Hollywood Suite also aired an 18-hour marathon of the Carmilla web series ahead of airing the film last year.
Shaftesbury's SVP of branded entertainment, Kaaren Whitney-Vernon, told Playback Daily the idea for the documentary was planted through Shaftesbury's experience of the Carmilla fandom. "It was because of Carmilla that we knew there was a story here. That show taught us a lot about queer fandoms and how engaged they are in content. This is a story of how fandoms are demanding better representation," she said.
The doc is produced by Stephanie Ouaknine in association with the CMF and Hollywood Suite. Executive producers are Christina Jennings, Scott Garvie and Jay Bennett.
Earlier this week Shaftesbury appointed Dylen Postnikoff to the newly created position of VP, global brand strategy. In the role, Postnikoff is tasked with expanding Shaftesbury's global footprint and building engagement with passionate audiences and fanbases internationally.