In brief: Montreal VFX industry grows, Brault gets second term
Plus: Mosaic Entertainment tries its hand at virtual reality with six VR sketches to accompany CAUTION: May Contain Nuts.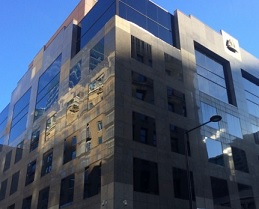 Montreal's VFX studio boom continues
U.K.-based VFX studio Outpost has launched its first overseas studio in Montreal. The 6,000 square-foot studio is led by Becca Scott, Outpost's head of production for North Montreal, along with VFX supervisor James Rustad, whose work includes the Alberta-shot The Revenant, Wonder Woman and the Harry Potter film series. The studio said it aims to create 40 news jobs in the first six months of operation. Outpost is the latest of a number of international VFX studios to plant their flag in Montreal, including L.A.-based studios Digital Domain and Pixomondo and Munich's Scanline VFX.
Simon Brault earns second term at the Canada Council for the Arts
Simon Brault has been reappointed for a second term as director of the Canada Council for the Arts. Brault started the role in 2014 and since then has worked to increase support for arts organizations and increase the profile of Canadian artists. During his first term, Brault oversaw a significant funding boost after the federal government doubled the organization's funding in its 2016 budget. Before Canada Council for the Arts, Brault worked as administrative director and CEO of the National Theatre School of Canada from 1982 to 2014. He is also a founding member and chair of Culture Montreal.
APTN sketch comedy heads to virtual reality
APTN is adding an immersive experience to the new season of its sketch comedy CAUTION: May Contain Nuts, which premieres March 8. Production company Mosaic Entertainment collaborated with 3D VR director Dylan Pearce to create six VR sketches for APTN's digital site and YouTube page. APTN and select Indigenous radio stations in Alberta, Manitoba and Northwest Territories will give away free VR goggles for fans to enable better access to the digital-only content. Sketches available on YouTube can be viewed in 360-degrees for viewers without access to VR goggles.