Killing Patient Zero, Toxic Beauty to world premiere at Hot Docs '19
The projects from directors Laurie Lynd and Phyllis Ellis are among the Special Presentations lineup, while Sundance films Advocate and Gaza make their Canadian premieres.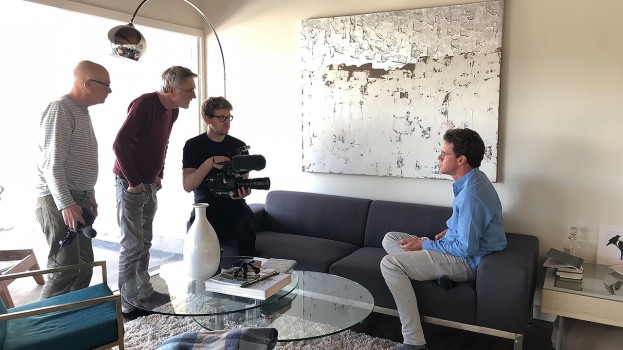 Two Canadian films will have their world premieres in the Special Presentations program at Hot Docs 2019.
Toxic Beauty, directed by Phyllis Ellis and produced by Peter Raymont and Barri Cohen, explores the hidden health risks from using cosmetics; and Killing Patient Zero, directed by Laurie Lynd and produced by Corey Russell, investigates the life of a Quebecois flight attendant who was accused of being "patient zero" in the 1980s AIDS epidemic.
Meanwhile, veteran documentary filmmaker John Walker's Assholes: A Theory (pictured) makes its North American premiere in the program. The feature doc, produced by Walker, Ann Bernier and Annette Clarke, is inspired by the bestselling book of the same name and investigates the rise of bad behaviour in the world and what it means.
Also selected are Advocate and Gaza, two Canadian docs that recently competed in the World Cinema Documentary competition at Sundance. Advocate, directed by Rachel Leah Jones and Philippe Bellaiche and produced by Joëlle Bertossa and Paul Cadieux, follows an Israeli humans-rights lawyer who defends the rights of Palestinians, while Gaza, directed by Garry Keane and Andrew McConnell and produced by Cadieux and Brendan J. Byrne, observes life on the Gaza Strip. Both are making their Canadian premieres.
Also premiering in Canada for the first time is Fred Peabody's The Corporate Coup D'etat. Produced by Peter Raymont, the doc explores how the MAGA doctrine has become a symbol of broken democracy.
Among the international features included in the program is Rachel Lears' high-profile doc Knock Down the House (U.S.), which followed four Congress hopefuls, including now-member of Congress Alexandria Ocasio-Cortez, during the 2018 U.S. mid-term elections.
The remaining Special Presentations selections include Jacqueline Olive's Always in Season (U.S.), about the unsolved death of a black teen in North Caroline in 2014; Heddy Honigmann's Buddy (Netherlands), observing the relationship between service dogs and their owners; Petra Costa's The Edge of Democracy (Brazil), with a look at former Brazilian presidents Dilma Rousseff and Lula da Silva; Adam Bolt's Human Nature (U.S.), on DNA sequence editing; Jeffrey Palmer's N. Scott Momaday: Words from a Bear, observing the life of the Pulitzer Prize-winning author; Elizabeth Carroll's Nothing Fancy: Diana Kennedy, on a 96-year-old chef considered the "Mick Jagger of Mexican cooking"; Fredrik Gertten's Push (Sweden), which follows the growing concern of affordable housing in cities worldwide; and Henry Singer and Rob Miller's The Trial of Ratko Mladic (U.K., Norway), about a trial for an accused war criminal known as the "Butcher of Bosnia."
The Hot Docs festival will run from April 25 to May 5.