Should there be some 'DIY' in your kids-content mix?
Children are consuming more homemade content from vloggers and YouTube personalities than ever, but what does the trend mean for producers?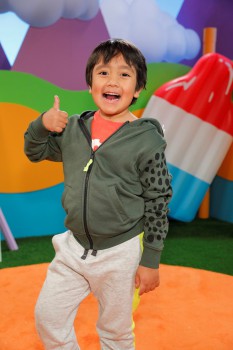 It says a lot that YouTube's top earner last year was a seven-year-old boy, Ryan (pictured right), whose channel "Ryan ToysReview" earned an estimated US$22 million in 2018, according to Forbes.
The enormous popularity of the channel, which has more than 27 billion total views and just spawned a Nickelodeon linear series, typifies a growing trend toward shorter-form YouTube content that children find more relatable and accessible.
This is supported by a recent report from U.K. regulator Ofcom, which indicates children aged three to 15 are consuming increasing amounts of content not just on YouTube itself, but made by vloggers and platform personalities. The steepest increase came in the 12- to 15-year-old demo, 52% of which said they watch vloggers, up from 40% the year before. Meanwhile game tutorials, unboxing videos and how-to videos have also grown in popularity since 2017. The Ofcom report, released in late January, noted children are increasingly emulating the personalities they see online by becoming video creators themsleves, with 40% of five- to 15-year-olds reporting doing so.
Which raises the question: should producers and broadcasters be mindful of this shift toward DIY YouTube content that kids find more personal to them?
Jon Gisby is the managing director of WildBrain, which is both a producer of children's content and one of the world's largest YouTube networks. According to its parent company, DHX, "one in three kids worldwide with access to YouTube watch video on the WildBrain network, which has over 75 million subscribers."
Gisby points out that homemade online video has created a generation accustomed to content of a lower production value. This doesn't mean kids don't also want premium broadcast and SVOD content, he emphasizes, but that YouTube-specific content is growing in the viewership mix.
"Children's sensibilities as to what content should be are going to be shaped by the content they see," says Gisby. This, he notes, has a couple of implications. First, that mainstream broadcast channels and SVODs can offer lower-budget content alongside their premium offerings. And, second, that producers should have an AVOD strategy that complements their SVOD/broadcast strategy. "[Producers] may decide that AVOD isn't right for them and their brands. But make a conscious decision. If kids aren't watching your content on AVOD, they'll be watching somebody else's, and engaging with their brands," he advises.
The trend presents an opportunity for companies like WildBrain (or Frederator, which is part of Wow! Unlimited) that are experimenting with both new and existing IP to see what works with online audiences before forging a path to broadcast.
In some cases, WildBrain is working with brands and IP that have been on the shelf for decades, such as Popeye, and creating new content focused on engaging a new generation of fans with more relatable stories, all in a space that requires significantly less investment than a full-fledged broadcast TV series.
Another company doubling down on its YouTube strategy is marblemedia, which recently relaunched its now-CAVCO-certified YouTube channel, marblekids. marblemedia is looking to significantly expand its digital-series output and, in February, launched Smashalot!, as a digital-only spinoff of Splatalot! (pictured left). The series includes prominent YouTubers (that are also fans of Splatalot!) sharing stories about the show.
While co-CEO Mark Bishop says the company is still focused on creating premium, long-form series, the lower budgets of YouTube-specific content allow it to build out for its target audience of six-to 12-year-olds at a relatively low cost of acquisition. "We've got a lot of different discussions going on around launching more brands within marblekids, [with] more personalities who can be the voice of the channel, communicate directly with kids and who can engage and tell stories in a different way," says Bishop.
Going forward, Bishop says the expanded channel will provide a platform to incubate the stories of YouTube personalities and create the potential to migrate them onto bigger-budgeted projects.
It's a strategy that Gisby says WildBrain is expanding with properties including Woody Woodpecker, Teletubbies spinoff format Tiddlytubbies and others.
"If you get it right, you can start ascending the ladder and create bigger and better content, which you can then take to broadcasters and platforms and say, 'we've got an audience here, let's go to primetime,'" says Gisby.
This story appears in the Spring 2019 issue of Playback magazine