Behind the curtain of the 2019 CSAs
Canadian Academy CEO Beth Janson on the trends, discussions and issues shaping this year's awards.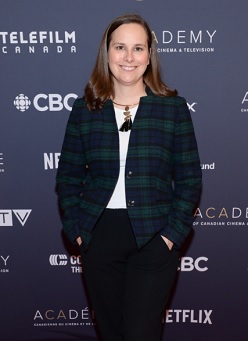 Academy of Canadian Cinema and Television CEO Beth Janson arrived at the awards body in 2016, following leadership roles at Tribeca Film Institute and Rent the Runway Foundation. She took over in the midst of a transformative time for Canadian media – an era that continues today. Here, she discusses the role the Canadian Screen Awards play in the larger conversation of Canadian film and TV and why we shouldn't compare it to the Oscars.
Now that you've firmly settled in as CEO, how does your view of the role of the Canadian Academy compare to when you first started?
I feel like I came on just when the Academy was at a critical point. The industry is changing and that gives the Academy more of a role. [We are working] to serve as a catalyst for a sophisticated conversation on what direction our industry is heading in and how we can support the different players. The Academy is uniquely poised to do that.
Canadian TV is achieving global success, but indie film is still struggling. What role do you think the Academy and the awards have in bolstering Canadian film?
Canada is a very unique system and our role is one of introducing these films to a mainstream audience. I dread being compared to the Oscars because it's such a different beast. The Oscars are celebrating films that have millions of dollars in budget and marketing, so the job they have is to shape the narrative, not start the conversation. I draw a lot of comparisons to the Independent Spirit Awards because they are, in many ways, more akin to what we are doing. We work with films with much smaller budgets, often a non-existent marketing budget and a very small market. We're a 30 million-strong population, so when you try to think of that in terms of audience, it's very small.
On that note, this year's biggest surprise was the domination of French-language films. What are your thoughts on that?
Each year is different. I don't think it's a death knell for English film. These films just had a really strong year and we do have a lot of English films recognized in the other categories. While I know a lot of people would like to draw a bigger, more sensationalist message from it, I don't. I will say that I wish that some of the films made in Quebec would reach more of an audience in English Canada. They're not so culturally specific as to be unable to be understood across Canada and around the world.
We're trying to do that. We've created the Screen Arts festival and we will be programming films in partnership with Cineplex in theatres in seven different cities across Canada. They'll be running every Saturday in March leading up to the awards. Our hope is that we can try and curate a selection of films we feel will appeal to a broad, mainstream English audience across Canada, and some of those films will be French-language films. I think we should be embracing it. I know there's a concept of the two solitudes, but I see this as one way where we can have more cultural exchange and cross-cultural dialogue in Canada.
You've spoken about the Academy's support of virtual reality. What does that look like this year?
As someone coming from outside of the country, I know there is an understanding that Canada is leading the way in a lot of these spaces. When I came here I was really surprised that narrative wasn't in our industry conversation, so we introduced the first immersive experience [category] two years ago.
This year we've split that category into best experience fiction, non-fiction and created a virtual reality game category. There's more and more work being produced that's still seen by the mainstream industry as fairly niche. I think that relates to business models and audiences having access to devices to experience it. But that doesn't mean we're not innovating and pushing the boundaries artistically on what that medium is doing.
Unlike the Oscars, having no host for the CSAs this year was a strategy from the start. How did you weigh the risk of doing that?
There's a lot of moving parts in an award show and a host can serve as a traffic cop to keep things moving along if something doesn't happen when it's supposed to happen. We'll see how it works without that. I think the host you choose says something about your point of view on the show and the narrative you're trying to tell. For us, not having a host is our point of view. We have so many bright comedic talents working right now in Canada that we don't want to choose just one. There will be presenters, pre-taped segments and some interesting cross-pollination between the casts of some of our funniest shows.
This article originally appeared in the Spring 2019 issue of Playback magazine