Spooky short 'Willa' rallies support from Toronto's film community
Filmmakers Corey Mayne and Barbara Szeman discuss how a 100-strong volunteer film crew helped them adapt the Stephen King story on a $35,000 budget.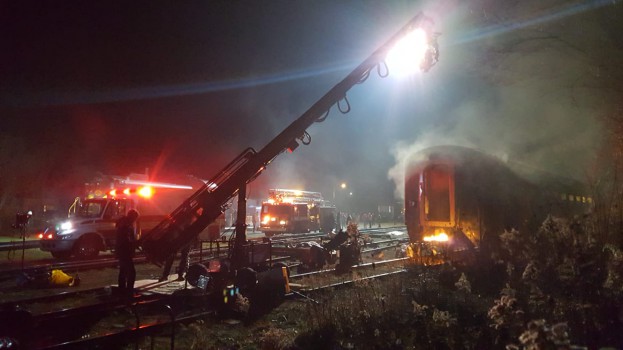 With Toronto's film crews in higher demand than ever before, sometimes it takes a bit of savvy, a lot of overtime and some killer IP to get original projects off the ground.
And so it proved for the filmmaking team behind the short-film project Willa, based on Stephen King's 2006 short story about a man looking for his fiancée at a train station.
The project is directed by Corey Mayne, a VFX artist with credits on Vikings and Game of Thrones, and co-written by Mayne and producer Barbara Szeman, who has worked as an AD on features like Suicide Squad and A Simple Favour. It is the first project produced through their newly formed prodco Formido Films.
With a budget of $35,000, the filmmakers were able to recruit a volunteer film crew of more than 100 workers, the majority of whom were female, who had worked on such high-profile projects as Suicide Squad, It: Chapter Two and The Handmaid's Tale. The crew were able to utilize high-powered equipment such as 30-inch techno-cranes and LRX lights, while Deluxe Toronto stepped in to handle post-production. The film's extras were largely comprised of deaf performers.
The end result is a 12-minute film that, according to Mayne and Szeman, is the largest-scale short film ever made in the GTA.
Creating the film on a tight budget required a high level of resourcefulness. Mayne and Szeman were able to secure the rights for the film under the prolific author's Dollar Baby program. As its title suggests, the program allows creators to use certain properties at the cost of one dollar and a copy of the finished project. It was created by King to help students and emerging filmmakers adapt his work, with the caveat that they can't profit from the film. "We would have to renegotiate anything if there were to be any distribution or profit deals made," Szeman told Playback Daily.
The short was largely filmed at the York-Durham Heritage Railway in Uxbridge, ON, which allowed the crew to film after Formido made a charitable donation and agreed to create three promos for the railway. "We tried to be clever about the things we couldn't afford to pay in full," said Mayne.
While Mayne and Szeman say they applied for several grants, the were unsuccessful in all but one of their applications (they received a $1,000 grant from Windsor's Arts, Culture and Heritage Fund). "They all came back and said this was too ambitious," said Mayne.
Another $11,000 was raised through a GoFundMe campaign, while Mayne was able to cover the rest in part from Formido Films revenue and a settlement he received from Pixar in a class-action wage-fixing lawsuit.
Now that post-production is complete, Mayne and Szeman are submitting the short to as many festivals as they can and there is already buzz about Willa among Stephen King fans eager to see the finished product. Through the festival circuit the filmmakers will share the film, and their journey of making it, with as many audiences as they can.