Crafting a bingeable format to 'blow away' viewers
Marblemedia's Matt Hornburg discusses the strategy that shaped the company's new glass-blowing series with Netflix and Blue Ant's Makeful.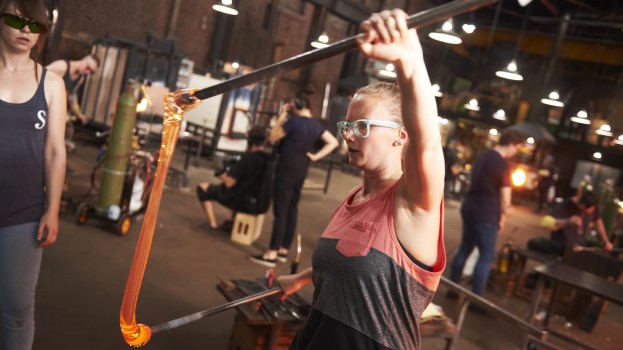 When marblemedia started bouncing around ideas for new competition-based series in 2016, glass-blowing stood out as a concept with "high dramatic" potential, according to co-CEO and executive producer Matt Hornburg.
In addition to the craft's visual beauty, Hornburg said the marblemedia team saw TV potential in the complexities (and potential perils) of working with glass. "The more research we did, the more we realized what was at stake in handling glass, and working with 2,000-degree furnaces for moulding it," he said. Also, crucially, the profession draws interesting personalities and characters that are so important to the success of an unscripted series.
The result of these efforts is Blown Away, which made its broadcast premiere during Blue Ant's Makeful free preview last week and is set to be released on Netflix internationally this summer. Hosted by former Big Brother and America's Got Talent contestant Nick Uhas, the 10-episode, half-hour reality show follows 10 participants as they compete in glass-blowing challenges – designing, creating and presenting their work to judges, all in the span of four real-time hours.

In addition to expanding marblemedia's slate of competition-based series, Blown Away also represents the company's first production with Netflix. Hornburg says marblemedia first established a relationship with the global streaming service in 2016 through its agent, Hayden Meyer, of L.A.-based talent agency APA. At around the same time, marblemedia's distribution arm D360 sold the Australian photography series Tales by Light to Netflix. After getting a number of projects in front of Netflix and eventually pitching Blown Away as a serialized competition show, marblemedia then secured Blue Ant as the show's domestic broadcaster.
The partnership between the three companies has spawned repeat business, added Hornburg, with another soon-to-be-announced unscripted series in the works.
While Hornburg said the show could also have worked as a 60-minute series, the growing importance of binge-watching paradigms led marblemedia to opt for the shorter, 30-minute format. "What's interesting is, in speaking with Netflix, you start to realize part of how they're going to evaluate [Blown Away's] success is its binge-worthiness," he said. "Because it's a half-hour show, I've come to realize that [this shorter format] could actually help us because, conceivably, audiences could watch the show back-to-back all in one night, rather than 10 one-hours."
Hornburg added that marblemedia's in-development IP slate is representative of an increasing focus on half-hour formats. "I think shaking up the format in competition and reality is certainly exciting and it's certainly impacting how we're developing new shows to bring to these same partners. We feel like it's an interesting model that we naturally want to exploit more," he said.
Marblemedia co-CEO Mark Bishop serves as an executive producer on Blown Away alongside Hornburg. Ron Carroll is series producer, Donna Luke is supervising producer and Mike Bickerton is director. The Corning Museum of Glass in New York is also a consulting producer on Blown Away. D360 represents the series worldwide.