Gearshift Films heads north once more for new feature Tainted
LevelFILM will handle Canadian distribution on Brent Cote's directorial debut about a former mafia member trying to outrun the demons of his past.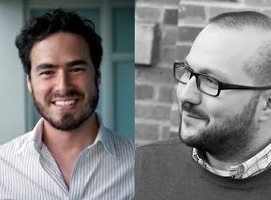 Gearshift Films is headed to Northern Ontario once again to shoot its latest feature film, Tainted.
Written and directed by Canadian filmmaker Brent Cote, Tainted is Gearshift's sixth film overall and the third to shoot in Northern Ontario. Production gets underway next week in Sault Ste. Marie.
LevelFILM has signed on to handle Canadian distribution, with the film tentatively slated for a fall 2019 release.
Tainted stars Alan van Sprang (Star Trek: Discovery, Shadowhunters) as a former member of the Finnish mafia who looks to leave his violent past behind him. Sprang stars alongside John Ralston (Designated Survivor), Aaron Poole (Salvation), Sara Waisglass (Degrassi) and John Rhys-Davies (Aquaman).
The crime drama is the directorial debut from Cote, whose other credits include the TV movie Deadly Inferno and the short film Mercs starring Michael Eklund. Gearshift principals Jordan Barker and Borga Dorter (pictured left and right, respectively) met the writer/director through his manager Ryan Cunningham at L.A.-based Anonymous Content.
Barker and Dorter, who produce the film, said they were initially drawn to working with Cote because of his impressive proof-of-concept shorts and his ability to capture the humanity of his characters. Gearshift's development manager Maddy Falle is associate producer. Tainted is financed by Ontario Creates (formerly the OMDC), tax credits and the Northern Ontario Heritage Fund Corporation.
Toronto-based Gearshift's previous titles include the horror feature Stranded, which filmed in Northern Ontario in 2018, and Igor Drljaca's The Waiting Room, which had its world premiere at TIFF '15.