In Brief: The Order and Bajillionaires land premiere dates
Nomadic's werewolf drama and Six Eleven Media's kids comedy are set to debut this March, while Shredders of Metal will return for a second season.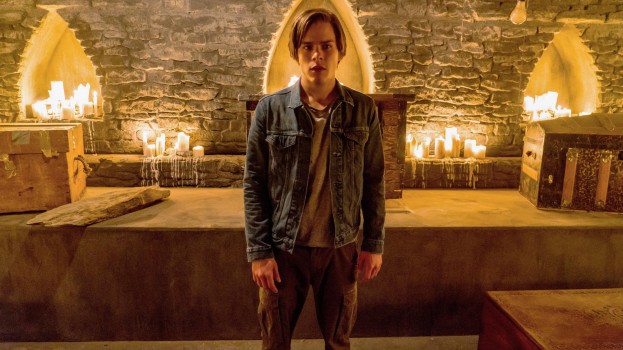 The Order and Bajillionaires nab premiere dates
Nomadic Pictures upcoming Netflix werewolf drama, The Order (pictured), is set to make its global debut on March 7. Greenlit by the streamer in April, the series follows a college freshman who joins a secret society where he uncovers a magical world and dark family secrets. Created by the WGC's Dennis Heaton, the thriller sees Heaton, Shelley Eriksen, David Von Ancken, Nomadic's Mike Frislev and Chad Oakes all serve as exec producers. Show writer Rachel Langer is also a co-exec producer on The Order.
Meanwhile, Six Eleven Media's Bajillionaires will make its premiere as part of a two-day TV event on DHX's Family Channel next weekend. Created by Derek Harvie, the live-action scripted comedy series, previously titled Greenfields, will air on March 2 and 3 at 10 a.m.  Also ordered in April, Bajillionaires follows 12-year-old Max Graham and his friends as they run a start-up out of his parents' garage. Produced by Six Eleven Media in association with Family Channel, the show is exec produced by the Six Eleven's CEO, former DHX Media president and exec producer, Charles Bishop and his team. New episodes of Bajillionaires will air on Sundays at 10 a.m. and will also be available on the Family Channel App and Family OnDemand. DHX Media handles international distribution of the series.
Shredders of Metal earns a second act
Toronto-based Banger Films' guitar-shredding competition series, Shredders of Metal, has been given the go-ahead for a second season. Funded by the Bell Fund, the show sees eight guitarists compete before a panel of judges to win the title of Ultimate Shredder and a prize pack. Season one of the six-episode digital series premiered on the company's YouTube channel Banger TV in 2018. Casting for season two is currently underway, with the digital series set to debut this summer. Ben Weinman from The Dillinger Escape Plan also joins the series as a judge for the show's sophomore season.
Blue Ant's ZooMoo launches on iflix in Asia
Blue Ant Media's interactive preschool nature channel ZooMoo has launched on Malaysia-headquartered subscription video service iflix in Asia. Twenty hours of content from the channel is now available in markets like Malaysia, Thailand, the Philippines, Indonesia, Vietnam, Cambodia, Myanmar, Brunei, Maldives, Pakistan, Bangladesh, Nepal and Sri Lanka. Subscribers have access to titles like LOST!, Animal Alphabet and ZooMooPedia, to name a few. In addition, every month, four hours of new content from ZooMooo will land on the service.