Raja Khanna on bringing Dark Slope into the light
Serial entrepreneur Khanna discusses the formation of the new VR and AR company, which just added Steven DeNure to its board of directors.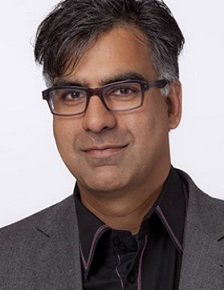 "There was a lot of serendipity involved," says Raja Khanna of the formation of his new co-venture Dark Slope.
Serial entrepreneur and former CEO of TV and digital at Blue Ant Khanna says he began to think seriously about the business opportunities in AR and VR about two years ago, as he and friend, and former Chocolate Liberation Front president, Dan Fill began noodling ideas. Things started to get more real as Khanna moved out of his role at Blue Ant and the duo started networking with others sussing out the space, including ex-Secret Location exec producer CJ Hervey and tech entrepreneur Ben Unsworth.
The noodling turned into a business plan and the four founders launched Dark Slope a year ago, spending the time since in "stealth mode" Khanna says, as they built out a gaming engine, strategy, technical capabilities and project slate for projects in the immersive media space. (Within the company, Hervey is president, Fill COO, Unsworth technical director and Khanna executive chair).
The first of those projects, Scarygirl Mission Maybee, hits the market this month. Based on the cult graphic novel and toy brand Scarygirl from acclaimed artist Nathan Jurevicius, the project is a multiplayer VR game that brings up to eight players together to save the world from Dr. Maybee. The games sees players working together to "suck up infectious hazardous goo, purify it and blast it back at the hordes of creatures infesting the world." It was financially supported by Ontario Creates and the CMF.
As anyone that has followed Khanna's career might suspect though, Dark Slope is not simply an interactive company. The Toronto-based startup is also building out an animation business that will develop its own IP as well as servicing other projects for clients. "We're riding this line between the content business and rights, and the content business and technology," he tells Playback Daily.
On the IP side, Dark Slope is developing a TV project based on Scarygirl, with members of the company attending Kidscreen this week to shop the project to potential partners. Dark Slope is also providing animation services to networks including Nickelodeon and others.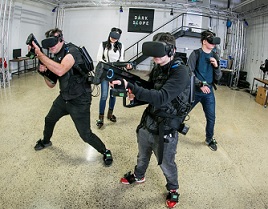 On the kids-content front, Dark Slope also this week revealed a new ally in the form of one of the industry's heaviest hitters: Steven DeNure. The former DHX Media president and COO joined Dark Slope's board of directors and was part of a $1.5-million funding that closed recently.
Khanna says that as Dark Slope continues to build out its kids business, DeNure's insight will be invaluable. "He's already helping us internationally with building relationships with the right people," says Khanna.
And as the company looks to the future, Khanna believes the biggest opportunity for Dark Slope and other companies in the VR and AR space is the widespread adoption of 5G networks. "As the 5G network comes online, and the hardware evolves from headsets all the way down to being simple glasses that you can wear, it will allow the type of throughput you need out on the street to be able to do more mixed reality and augmented reality.
"I think that's going to be the game-changer for us. And why we think the timing for launching Dark Slope is right," he says.
After more than 10 years with GlassBOX and Blue Ant Media, Khanna says helping to build a new company from the ground up is both invigorating, and the most natural fit for him. "I guess I've learned about myself that this is what I'm supposed to be doing," he says.
Pictured: Dark Slope's studio in Liberty Village, Toronto