CSAs '19: Anne, Schitt's Creek, Cardinal lead TV nominations
Anne with an E and Schitt's earned 15 nods apiece, with Cardinal slightly trailing at 14, while Canadian sci-fi made a splash.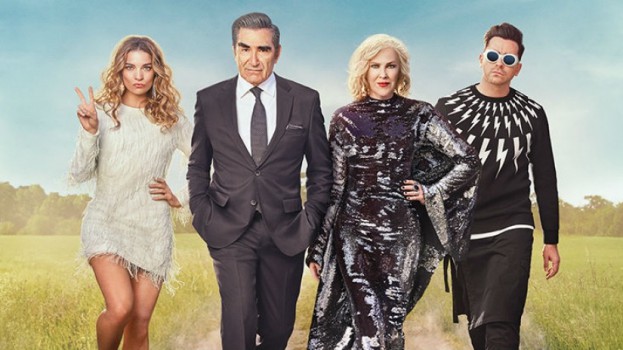 Anne with an E and Schitt's Creek have topped the Canadian Screen Awards TV nominations list with 15 each, including best drama and best comedy, respectively.
Cardinal, produced by Sienna Films and eOne, wasn't far behind with 14 nominations, picking up a nod in the best limited series category.
The nominations were announced Thursday Feb. 7 from Toronto.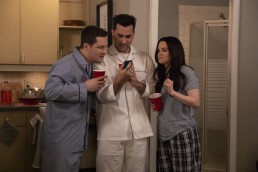 Not a Real Company Production's Schitt's Creek (pictured) returns to the best comedy category after being snubbed in 2018, competing against another 2018 omission, Mr. D (Topsail Productions, Gerard ADHD Entertainment), which earned four nominations. Wolf + Rabbit's Workin' Moms, which picked up nine nominations, and New Metric Media's Letterkenny, picking up eight, are also on the ballot with first-time nominee, Second Jen from Don Ferguson Productions. Last year's winner Kim's Convenience (Thunderbird Entertainment) did not make an appearance on the ballot this year, as its third season did not premiere in time for eligibility in 2019.
In the best drama category, Northwood Entertainment-produced Anne with an E competes against two newcomers: Bad Blood (New Metric Media and Sphere Media Plus), which picked up four total nominations, and Shaftesbury's Frankie Drake Mysteries, which earned five. Also nominated for best drama are two category vets: Take 5 Productions copro Vikings, earning a total of eight nominations, and Breakthrough Entertainment's Blood and Water, which earned three. This year's surprise omission for best drama is Cameron Pictures' Mary Kills People, which otherwise scored nine nominations in total. The show received nods for directing, photography, two for writing, and three for acting.
While they weren't on the best series ballots, Canadian sci-fi series Wynonna Earp (SEVEN24, pictured) and Killjoys (Temple Street) earned several nominations apiece, mainly in the craft categories, and Killjoys' Aaron Ashmore and Wynonna Earp's Melanie Scrofano were finally recognized in the acting categories. Wynonna Earp earned eight nominations in total, while Killjoys earned six.
Sinking Ship's Odd Squad leads the pack for children's programming with six TV nominations, while Handful of Films' Equus: Story of the Horse picked up the most nominations for an unscripted program with eight.
On the unscripted side, Amazing Race Canada and Big Brother Canada (both produced by Insight Productions) lead the pack with six and four nominations, respectively. The series are nominated alongside Canada's Smartest Person Junior (Media Headquarters), Knock Knock Ghost (Convergent Entertainment) and MasterChef Canada (Proper Television) in the the best reality/competition series category. Canada's Smartest Person (Media Headquarters) earned three nods, while Knock Knock Ghost (Convergent Entertainment) earned a single nomination.
Among the notable directing and writing nominations: Schitt's Creek earned two nominations for episodes directed by Sturla Gunnarsson and co-directed by showrunner Dan Levy and Andrew Cividino. Both Levy and Workin' Moms showrunner Catherine Reitman were first-time nominees in the directing category. Vikings also picked up two directing nominations for Daniel Grou and and Jeff Woolnough.
Mary Kills People and Cardinal both nabbed two writing nominations. Mary Kills People episodes penned by creator Tara Armstrong and co-penned by Tassie Cameron, Lara Azzopardi and Marsha Greene, while Cardinal episodes were penned by Jennica Harper and Sarah Dodd.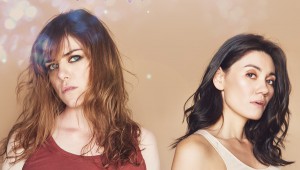 In the digital media side, nominations for best web series (fiction) went to Chateau Laurier (Geneva Film), Gary and His Demons (Look Mom!), Ghost BFF (Babe Nation, pictured), How to Buy a Baby (LoCo Motion Pictures) and NarcoLeap (KGP Films). Meanwhile Farm Crime (Big Cedar Films), MUCH Pride (MUCH Studios), In Chinatown (self-directed studies), The Artists: The Pioneers Behind the Pixels (The Artists) and The Move (CBC) are up for the best web series (non-fiction) prize.
An expanded list of TV nominees is below, with the full list available here.
Best Drama Series
Anne with an E
Bad Blood
Blood and Water
Frankie Drake Mysteries
Vikings
Best Comedy Series
Letterkenny
Mr. D
Schitt's Creek
Second Jen
Workin' Moms
Best Limited Series or Program
Cardinal: Blackfly Season
Caught
Second Opinion
The Indian Detective
Best Reality/Competition Program or Series
Big Brother Canada
Canada's Smartest Person Junior
Knock Knock Ghost
MasterChef Canada
The Amazing Race Canada
Best Sketch Comedy Show & Ensemble Performance
Baroness Von Sketch Show
Caution: May Contain Nuts
This Hour Has 22 Minutes
Best Animated Program or Series
Cloudy With a Chance of Meatballs
Corner Gas Animated
Hotel Transylvania: The Series
Paw Patrol
The Magic School Bus Rides Again
Best Web Program or Series, Fiction
Chateau Laurier
Gary and His Demons
Ghost BFF
How to Buy a Baby
NarcoLeap
Best Direction, Comedy
Letterkenny – Jacob Tierney
Mohawk Girls – Tracey Deer
Schitt's Creek – Daniel Levy, Andrew Cividino
Schitt's Creek – Sturla Gunnarsson
Workin' Moms – Catherine Reitman
Best Direction, Drama Program or Limited Series
Cardinal: Blackfly Season – Jeff Renfroe
Caught – TJ Scott
Murdoch Mysteries: Home for the Holidays – Gary Harvey
Save Me – Fab Filippo
Sometimes the Good Kill – Philippe Gagnon
Best Direction, Drama Series
Anne with an E – Helen Shaver
Frankie Drake Mysteries – Peter Stebbings
Mary Kills People – Norma Bailey
Vikings – Daniel Grou
Vikings – Jeff Woolnough
Best Direction, Children's or Youth
Dino Dana – J.J. Johnson
Odd Squad – J.J. Johnson
Science Max: Experiments at Large – Ryan Marley
The Next Step – Derby Crewe
The Next Step – Mitchell T. Ness
Best Writing, Comedy
Letterkenny – Jared Keeso, Jacob Tierney
Mohawk Girls – Cynthia Knight
Nirvanna the Band the Show – Andrew Appelle, Robert Hyland, Curt Lobb, Jay McCarrol, Matthew Miller, Jared Raab
Schitt's Creek – Daniel Levy
Trailer Park Boys – JP Tremblay, Mike Smith, Robb Wells
Best Writing, Drama Program or Limited Series
Cardinal: Blackfly Season – Jennica Harper
Cardinal: Blackfly Season – Sarah Dodd
Caught – Allan Hawco
Save Me – Fab Filippo
The Queen of Sin – Laurie Finstad Knizhnik
Best Writing, Drama Series
Anne with an E – Kathryn Borel, Jr.
Bad Blood – Michael Konyves
Mary Kills People – Tara Armstrong
Mary Kills People – Tassie Cameron, Lara Azzopardi, Marsha Greene
Murdoch Mysteries – Mary Pedersen
Writing, Children's or Youth
Dino Dana – J.J. Johnson, Christin Simms, Nathalie Younglai
Finding Stuff Out – Claire Cappelletti
Finding Stuff Out – Penelope Laurence
Odd Squad – Mark De Angelis, Leah Gotcsik
The Next Step – Karen McClellan
Best Lead Actor, Comedy
Letterkenny – Jared Keeso
Private Eyes – Jason Priestley
Mr. D – Gerry Dee
Schitt's Creek – Daniel Levy
Schitt's Creek – Eugene Levy
Best Lead Actor, Drama Series
Bad Blood City – Kim Coates
Carter – Jerry O'Connell
Killjoys – Aaron Ashmore
Murdoch Mysteries – Yannick Bisson
Travelers – Eric McCormack
Best Supporting Actor, Drama
Anne with an E – R.H. Thomson
Bad Blood – Louis Ferreira
Cardinal: Blackfly Season – Daniel Petronijevic
Mary Kills People – Salvatore Antonio
Save Me – Brent Carver
Best Supporting or Guest Actor, Comedy
Private Eyes – Ennis Esmer
Schitt's Creek – Chris Elliott
Schitt's Creek – Noah Reid
Tiny Plastic Men – Colin Mochrie
Workin' Moms – Peter Keleghan
Best Lead Actor, Drama Program or Limited Series
A Christmas Fury – Mark McKinney
Cardinal: Blackfly Season – Billy Campbell
Caught – Allan Hawco
Save Me – Fab Filippo
Best Lead Actress, Comedy
Private Eyes – Cindy Sampson
Schitt's Creek – Annie Murphy
Schitt's Creek – Catherine O'Hara
Workin' Moms – Catherine Reitman
Workin' Moms – Dani Kind
Best Lead Actress, Drama Series
Anne with an E – Amybeth McNulty
Burden of Truth – Kristin Kreuk
Mary Kills People – Caroline Dhavernas
The Detail – Wendy Crewson
Wynonna Earp – Melanie Scrofano
Best Supporting Actress, Drama
Anne with an E – Geraldine James
Blood and Water – Selena Lee
Frankie Drake Mysteries – Sharron Matthews
The Bletchley Circle: San Francisco – Chanelle Peloso
Travelers – Mackenzie Porter
Best Supporting or Guest Actress, Comedy
Little Dog – Mary Walsh
Schitt's Creek – Emily Hampshire
Schitt's Creek – Jennifer Robertson
Workin' Moms – Amanda Brugel
Workin' Moms – Jann Arden
Best Lead Actress, Drama Program or Limited Series
A Christmas Fury – Mary Walsh
Cardinal: Blackfly Season – Karine Vanasse
Caught – Tori Anderson
Save Me – Amy Matysio