Rights and writers' rooms dissected in Prime Time Netflix panel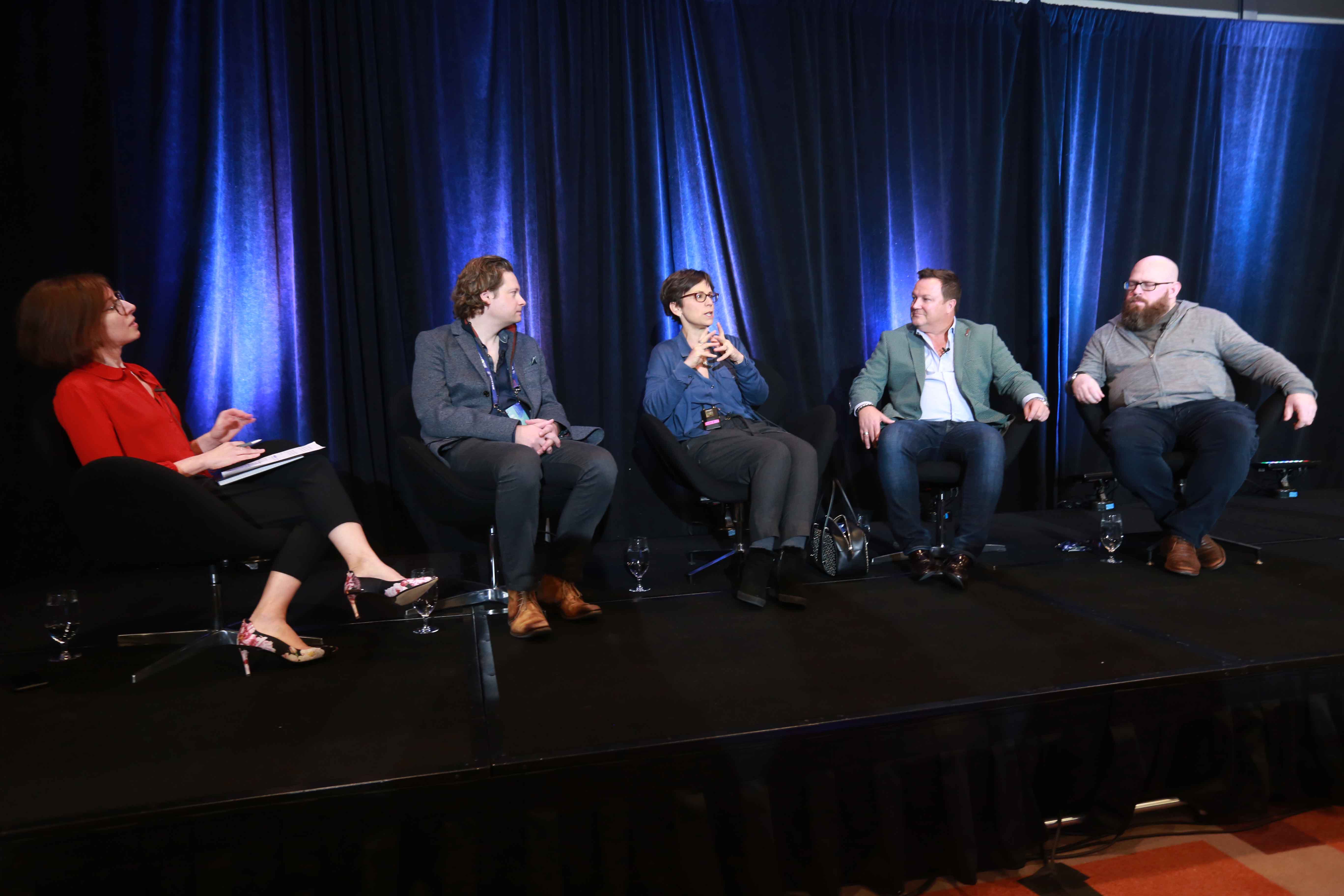 Netflix programming exec Chris Regina, Chad Oakes and Noreen Halpern discussed the different models and methods of working together.
For some producers, knowing exactly what Netflix wants has become somewhat of a full-time preoccupation.
During Thursday's "Netflix: Before and After the Greenlight" panel at CMPA Prime Time, sci-fi producers and creators got a glimpse of the conversations that take place inside Netflix programming exec Chris Regina's L.A. office.
Regina, whose title is director, scripted co-license and original TV, illuminated his commissioning preferences, while other Canadian producers discussed their experiences working with the streamer and got into the nitty-gritty of its IP-ownership models.
Moderated by Boat Rocker Media COO Samantha Traub, the panel also featured showrunner and WGC president Dennis Heaton, Halfire Entertainment CEO Noreen Halpern and Nomadic Pictures co-chairman Chad Oakes.
Sci-fi commissioner Regina told delegates he prefers to see projects when they are in early development ("someone can bring me an idea that's a couple of pages"), adding that the majority of his recent series were greenlit from concept documents, without a script or a bible or even a showrunner attached. Oakes added that of the five shows Nomadic has done with Netflix, only one had a showrunner attached when it was greenlit.
The model he prefers, noted Regina, is to take a well-defined concept, open up a writers room, have a writing team put together the concept for the first eight to 10 episodes, and then have the scripting process begin. "That way we're all in lockstep – the producers, writers, network – on the idea and direction we want to go," said Regina, whose commissioning remit also includes shows with elements of horror, fantasy or the supernatural.
The speed to greenlight can be rapid, said Heaton, which can be "very disorienting" for Canadian writers and producers accustomed a much longer development phase. Halpern, too, acknowledged that the speed of the process doesn't suit all writers and showrunners.
Asked by moderator Traub if Netflix was still willing to work with other commissioning broadcasters in Canada, Regina said the streamer remains open to coproductions, citing the recent CBC/Netflix co-commision Northern Rescue. "I want to encourage Canadian producers to come forth with ideas, [but] not necessarily through the lens of a financial model. We'll figure that out afterwards."
As with the day's first panel, "Beyond Disruption," the conversation turned to the sometimes-thorny topic of IP ownership for producers working with Netflix.
Oakes said Nomadic has been working on two different models with Netflix. It is the primary rights holder on Ghost Wars, Van Helsing, The Order, while Wu Assassins and The I-Land are "partner managed" projects, which he and Halpern described as 100% Netflix-funded and rights-controlled projects in which prodcos function as "managing studios," incentivized to be on time and on budget.
IP ownership models that see Canadian producers giving up all rights were highlighted as problematic by the CMPA in its submission to the review panel for the Broadcasting and Telecommunications Acts. But while releasing ownership is not a best-case scenario, both Halpern and Oakes agreed that doing so in order to make bigger-budgeted, global series is simply a new reality. Oakes, for example, noted that Nomadic gave up its IP stake in The I-Land when Regina called and told him Netflix was prepared to double the budget.
For Halpern, deal structures like this are part of a mixed economy of IP and non-IP projects that now form the foundation of her business. "I have shows I'm going to make with Chris [Regina] and Netflix is going to own them. I'm going to build that side of my business, which is a really lucrative business, and accept I don't own it," she said.
In an evolving production environment, Halpern said revenues derived from the non-IP side of the business are now being used to drive the IP-owned side of her prodco.
"That gives me the development money to fund the projects that I wouldn't have the money to fund otherwise," she said. "I can then can fund these projects that I'm going to own, that I'm going to sell and hold onto the international rights.
"If I didn't have this other really great relationship, then I wouldn't be able to fund the other business where I will have ownership."