Media leaders, Netflix spar on Prime Time stage
CBC's Catherine Tait accused the streamer of "cultural imperialism" while Stephane Cardin argued that Netflix's business is good business for producers.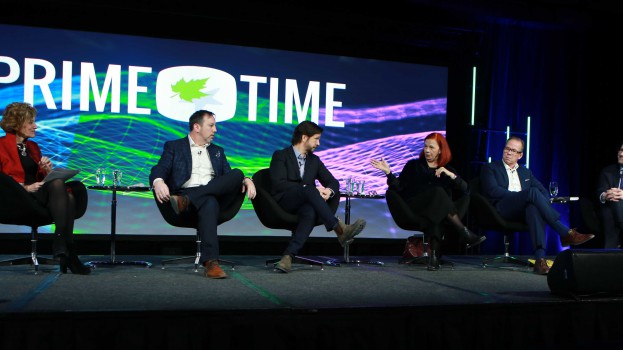 The word "frenemy" has been used to describe Netflix's relationship with local broadcasters in markets the world over.
But in Canada the term has taken on a more literal layer of meaning with the appointment of long-time CMF executive Stéphane Cardin as Netflix's director of public policy for Canada, one of the few such domestic roles in the streamer's global business operations.
Cardin took part in the much-anticipated "Beyond Disruption: Crafting a Framework for the Future of the Industry" discussion on Thursday alongside CBC's Catherine Tait, Bell Media's Mike Cosentino, Corus Entertainment's Doug Murphy and CMPA's Reynolds Mastin.
Moderated by Janet Yale, chair of the Broadcast and Telecommunications Acts review panel, the discussion addressed issues, and opposing viewpoints, at the heart of the ongoing review. It also served as a cross-examination of participants' respective stances on topics including IP ownership, regulation and the collective path forward for the industry.
During an often tense hour-long discussion, panelists praised Netflix for the quality of its programming but reiterated unanimously that it should be considered as a broadcaster and brought under Canadian legislation ("You're a foreign broadcaster – that's a fact," Murphy told Cardin).
Tait accused Netflix of "cultural imperialism," as well as telling Yale that a key element of the legislative review is to decide how to regulate online entities with global mandates. "How do we respond to international players whose primary instinct is to monetize over a global audience?" she said in reference to the importance of telling Canadian stories.
Responding to the question, Cardin said Netflix looks at the authorial voice (who wrote or directed the project) when judging whether a project is Canadian or not. "I don't think anyone has the monopoly on the ability to tell a true Canadian story," he said.
Cardin said the company disagrees with the narrative that it is "extractive" to the Canadian market, arguing that it is creating new business for domestic creators and producers and reiterating it is on course to significantly exceed its $500-million, five-year investment in Canada. "We're offering opportunities to creators and producers that just weren't there before. And I think that a lot of people, even in this room, even if they're not going to raise their hand right now, are quite thankful for that," he told delegates.
He also pushed back on the idea of expediting the process to bring Netflix under domestic legislation, as called for in many submissions to the Acts review. "We think that's fraught with some risks and that the process needs to be played out," he said.
Unsurprisingly Cardin's points didn't sway other members on the panel, including Cosentino: "I didn't hear a single thing Stéphane said that would be a reason not to make a contribution to the CMF," he said.
The conversation later turned to IP ownership between producers and broadcasters, with Mastin calling for measures to ensure smaller players (producers) are playing on a more even playing field with larger ones (commissioning broadcasters) when negotiating domestic and international rights. "The smaller player needs to have some assurance that there are going to be rules of the road, a framework that everyone has agreed to so that everyone feels that they are fairly sharing in the success of a show," he said.
Murphy and Cosentino agreed with Mastin that producers and broadcasters must collaborate better to optimize the economic interest for both parties. Murphy, however, emphasized his point that with the influx of foreign streamers, it is crucial that broadcasters are able to grow international revenue streams. "If I'm restricted from that, I'm just in this tough space where I've got unregulated interlopers taking audiences and ad dollars and in the meantime I'm fighting for my life," he said.