Harold Greenberg Fund supports 33 scripts
The funder backs scripts from high-profile and up-and-coming talent including Mina Shum, Charlie Tyrell, Sook-Yin Lee and Akash Sherman (pictured).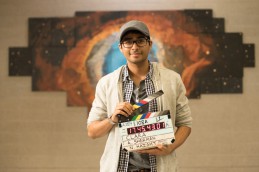 The Harold Greenberg Fund (HGF) has invested just under $500,000 towards 33 new Canadian feature films through its Script Development Program, including projects from Charlie Tyrell, Sook-Yin Lee, Akash Sherman (pictured) and Mina Shum.
Writer/director Tyrell, whose 2018 short film My Dead Dad's Porno Tapes was shortlisted for this year's Academy Awards, has received support towards his first scripted project through the story option stream. The story, based on Michael DeForge's graphic novel Big Kids, follows a troubled teenage boy through his high school years as he redefines his future goals, his interests and his friends. Big Kids sees Tyrell team up with My Dead Dad producer Julia Baldassi again. In addition to being shortlisted for the Oscars, the duo's My Dead Dad was recently selected to take part in TIFF's Top Ten festival.
New projects from Lee and Shum were also funded in the stream. Lee's project Paying For It is based on the 2011 graphic novel of the same name from Chester Brown, which discusses the world of prostitution. Wildling Pictures' Matt Code and Kristy Neville serve as producers.
Meanwhile, Shum's Winners and Losers follows two lifelong friends as they discuss whether they are winners or losers. She will pen the project alongside Marcus Youssef and James Long, who wrote the play. Shum will produce the film with Meditation Park producer Raymond Massey.
In addition, Akash Sherman's latest sci-fi project Morbus received support towards its second draft. The sci-fi horror feature tells the story of a deadly pathogen released from a melting glacier. The project follows in the footsteps of Sherman's sophomore feature, Clara, which made its world premiere at TIFF in 2018. Morbus is Sherman's second project with producer Ari Lantos, who previously teamed up with Sherman for Clara.
Other funded projects include Jeffrey St. Jules' second feature Boy Detective Fails; Patricia Chica's Montreal Girls; writer/director Lindsay McKay's The Miller's Son; Sophie Jarvis' Invasions; Katie Boland's directorial debut We're All In This Together; and Lora Campbell, Kristy LaPointe and Christopher Vandenberg's Let's Do This.