'First Person' sees Globe and Mail essays translated to screen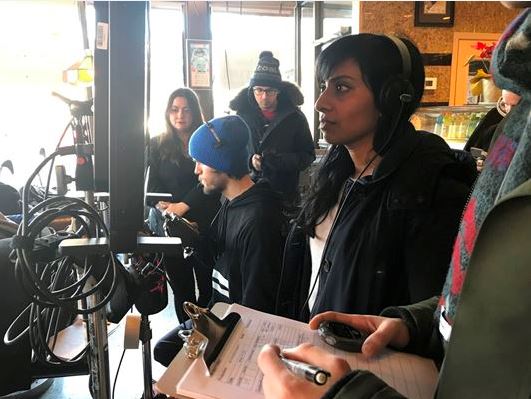 Carousel Pictures and Sugar Shack Productions are producing the six-part project, which began shooting last week.
With the ongoing success of the New York Times' "Modern Love" IP, two Canadian prodcos are hoping to uncover a similar gem with a new six-film anthology series based on the Globe and Mail's First Person essays.
Based on the long-running personal essay section (previously called Facts & Arguments), the project will see Renuka Jeyapalan, Joyce Wong and Jessie Gabe turn six stories into short films: Code Red, Life Support, My Father's Dignity, Masculinity, My Toronto Home and My Wife's Affair Is Kind of a Funny Story. Toronto-based production companies Carousel Pictures and Sugar Shack Productions are producing the project, which began shooting last week in Toronto and is scheduled to wrap later this week.
Some of the original stories have been read more than 100,000 times, according to a press release.
"Facts and Arguments (now First Person) is a venerable Canadian literary series which one might expect the adaptation of these articles to be a traditional and standard process," said Carousel Pictures' founder and president Tyler Levine. "Instead, we've decided to turn this collection of beloved stories into an incubator of Canada's most promising writer and director talent and challenge each of our three directors to do things behind the camera and in the edit that they've always dreamed of."
The Globe's research department helped sift through 10,000 stories for the series, with each of the three directors picking their favourite stories. Each author was consulted prior to Jeyapalan, Wong and Gabe penning the scripts.
Workin' Moms director Jeyapalan will direct three of the six films. She wrote Code Red, Life Support and My Father's Dignity. Code Red stars Alexandra Ordolis, Ian Ho and Christopher Jacot; Life Support features Raven Dauda and Jayne Eastwood; and finally, Kate Drummond stars in My Father's Dignity.
Meanwhile, Wong, whose directing credits include Wexford Plaza and True Dating Stories, adapted Masculinity starring Chris Robinson and My Toronto Home, which stars actors Louise Pitre and Joe Matheson. In addition, Mr. D's Jessie Gabe wrote and will direct My Wife's Affair, starring Rayisa Kondracki and Rodrigo Fernandez-Stoll.
Producers on the project include Carousel's Levine and Sugar Shack's Patrice Theroux. Jeyapalan serves as an exec producer. Coproducers on First Person also include Bruno Lyra and Carousel's Katelyn Cursio and Kevin Prozes.
Following completion, the First Person team plans to submit the series to film festivals. iThentic is handling global distribution of the project on digital platforms.
First Person received funding from the Independent Production Fund and tax credits.