In Brief: CMF, Wallimage invest $600K in VR copros
Plus: Corus sets the return date for Big Brother Canada, Toronto actor Sheila Shah is named ambassador for an international script competition, and more.
CMF, Wallimage fund immersive VR projects under Canada-Belgium incentive program
The Canada Media Fund and Belgium development fund Wallimage have announced two VR coproductions will receive $599,000 in funding under the Canada–Wallonia Digital Media Incentive for Multiplatform Projects. The incentive, now in its fourth round, encourages codevelopment and production between the two countries. Close to $1.7 million has been invested between seven copros since the joint incentive launched in 2014, according to CMF. This year Pôle Media Grand Paris has joined CMF and Wallimage as a logistical partner to support the projects through production.
The two projects are Marco Polo Go Round which will receive $184,500 from CMF and $115,000 from Wallimage, and -22.7, receiving $115,000 from CMF and $184,500 from Wallimage. Marco Polo Goes Round, produced by Montreal's Item 7 and Wallonia's Belga Productions, is an immersive and surreal love story that follows a couple as the world literally crumbles around them. -22.7, produced by Les productions 55 and Production 21, takes the user on a sensory journey through the Arctic Circle.
Big Brother Canada announces season seven premiere date
Corus Entertainment has set March 6 as the premiere date for Big Brother Canada's seventh season on Global. Arisa Cox (pictured) will return as host, with details on the season-long theme, grand prize, and new batch of houseguests set to be announced in February. The Canadian reality series, produced by Insight Productions, came back for a sixth season last year, following near cancellation after its fifth season. Corus attributed the series' return as due to popular audience demand. The series will air three nights a week: Wednesdays at 7 p.m., Thursdays at 8 p.m. and Sundays at 8 p.m.
Firecracker Department returns with new season, monthly newsletter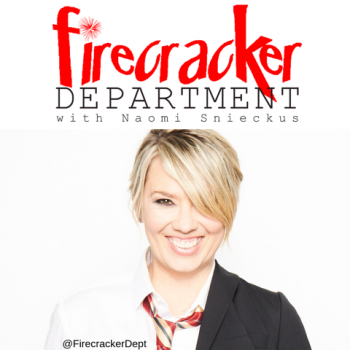 Canadian podcast Firecracker Department has expanded its team to deliver a monthly newsletter ahead of its second season. The interview podcast, hosted by actor and comedian Naomi Snieckus (pictured right), features sit-down chats with women in the entertainment industry, with past guests including ACTRA Toronto 2019 Award of Excellence recipient Jayne Eastwood, Annie Murphy (Schitt's Creek) and Zoie Palmer (Dark Matter, JANN). The monthly newsletter will include regular features from actors Rachel Wilson, Joanne Boland, Jen Pogue, comedian Anna Gustafson and writer Jessie Gabe. Firecracker will also go live on Facebook and Instagram on the last Sunday of each month for a chat with life coach Deanne Moffitt, which will be recapped in the newsletter. Season two of Firecracker Department begins February 2019, with upcoming guests including Wynonna Earp's Melanie Scrofano and Kat Barrell, and Mary Goes Round director Molly McGlynn. The podcast is produced by Toronto's Carousel Pictures.
Sheila Shah named ambassador for global script competition
Canadian producer and actor Sheila Shah has been named the official ambassador of the Your Script Produced screenwriting competition. The inaugural worldwide competition gives undiscovered film and TV writers an opportunity to submit their script for consideration. The winner will receive USD$10,000 and sponsor Doval Bacall Films will develop, package and produce the winning script with a budget of up to $250,000. As ambassador, Shah, who recently wrapped production on Rambo V, will be responsible for building international brand awareness and interest in the competition. Submissions opened Nov. 1, 2018, and will close June 15, 2019.