How Charles Officer's Invisible Essence came into focus
The filmmaker speaks with Playback about the rocky road to making his latest doc, Invisible Essence: The Little Prince, which launched on Netflix internationally this week.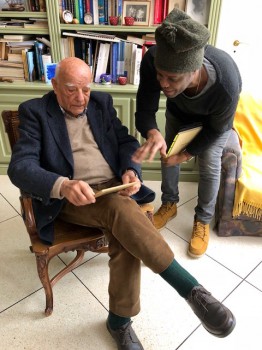 When Charles Officer's producing partners pitched him on the idea of a documentary exploring the legacy of Antoine de Saint-Exupéry's classic novella The Little Prince, the filmmaker says he initially dismissed the notion emphatically.
"My first thought was 'hell no,'" said Officer, who at the time was deep in the trenches of his doc, Unarmed Verses, about a Toronto community housing project undergoing demolition and revitalization. While he was fully aware of the property's built-in audience – it has reportedly sold as many as 200 million copies worldwide, been translated into 300 languages and a 2015 animated remake grossed around USD$100 million at the global box office – the Jamaican-Canadian filmmaker says he couldn't see a documentary angle from which to approach it.
But while Officer didn't initially warm to the idea, he had an enduring love of Saint-Exupéry's story about an airplane pilot who is approached by a young boy after he crash lands in the desert. It was that fascination with the story that kept the idea in his thoughts for months, until eventually he landed on the idea of exploring the story's legacy through one of its most memorable quotes: "It is only with the heart that one can see rightly; what is essential is invisible to the eye." With the thematic thread in place, Officer and his partner at Canesugar Filmworks, Jake Yanowski, set to work on the doc that gives a chapter-by-chapter analysis of the timeless story.
"It was a huge challenge, but in the end it was hugely rewarding" he said of Invisible Essence: The Little Prince, which garnered a Netflix pickup and launched in the U.S., U.K., Ireland, France, Australia and New Zealand earlier this week. The doc is produced by Toronto's 90th Parallel Productions, Montreal's Groupe Fair-Play and Officer's Canesugar Filmworks.
One of those challenges involved Super Channel, the project's early backer, which went into creditor protection and disclaimed the licence for Invisible Essence and around 100 others in 2016. What followed was a period of uncertainty, with the film stalling for around 12 months before CBC and Radio-Canada signed on, followed by a pivotal deal with New York-headquartered distributor The Orchard, which acquired international distribution rights.
Those deals got production back up and running and the project was in post by last year's Cannes film market, when The Orchard inked the multi-territory Netflix deal. CBC's documentary Channel also aired the project in December, while Toronto's Blue Ice Docs is planning a limited theatrical release next month. Discussions are also underway for potential theatrical releases in both Italy and China, according to Officer.
With this project now rolling out internationally, the writer/director has been afforded some time to delve back into development. And while documentary films have been his bread and butter for almost two decades, Officer, like so many filmmakers, has expanded his remit to include television in recent years, directing episodes of Private Eyes, 21 Thunder, Saving Hope and Rookie Blue. Now, for the first time, Officer is penning his own TV project, which is currently in development with Martin Katz (Prospero Pictures), Michael Levine (Generic Productions), Kenneth Hirsch (PMA) and Yanowski (Canesugar). The project is a six-episode series based on Canadian writer Mordecai Richler's second novel, Son of a Smaller Hero. Now in its second script phase, the producers are currently in discussions with international partners, said Officer. In addition, he is going into production on a new film project this spring, Akilla's Escape, starring American musician Saul Williams.
Pictured: Charles Officer with Antoine de Saint-Exupéry's nephew, Francois d'Agay