Unspeakable: Robert C. Cooper gets personal
The Stargate SG-1 showrunner explains how his CBC/SundanceTV miniseries about Canada's tainted blood scandal differs from other tragedy-based limited series.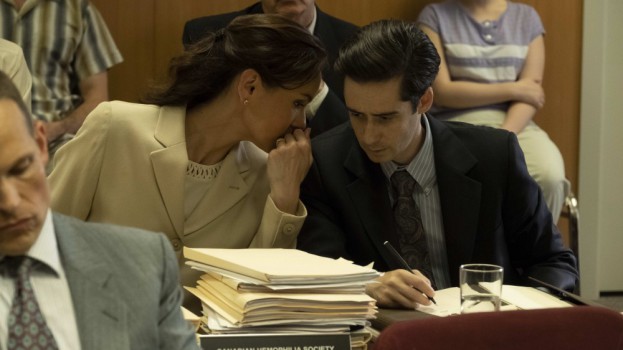 In pitching Unspeakable, Robert C. Cooper found he had to field questions about what makes his miniseries about Canada's tainted blood crisis different from other tragedy-based limited series. The answer, he says, is scope. 

"We really wanted to go beyond the initial moment and the initial event," he told Playback. "That's the most dramatic event – the earthquake or the fire or the alien invasion – but what we wanted to do was go beyond that. We wanted to show the impact of something like this on a lifetime."
Produced through the writer/director/producer's Vancouver-based shingle Mezo Entertainment, the eight-part series premieres tonight (Jan. 9) on CBC and is expected to be released by SundanceTV in the U.S. in spring 2019. The scripted series tracks the tragedy through the eyes of two fictional Canadian families, each with sons who contract AIDS from tainted blood, while following the perspective of doctors, nurses and corporations.
"It's the disease, it's the aftermath, it's the investigation, it's the inquiry that happened, it's the lawsuits… the criminal trial. What happens to you when you live with the disease for many years?" explained Cooper, whose credits include Stargate SG-1 and Dirk Gently's Holistic Detective Agency.
Written and directed by Cooper, who was diagnosed with hepatitis C from tainted blood products in the '80s, the showrunner notes Unspeakable tells a personal story. He credits his passion for the project and his relationship with AMC Studios as key pieces that helped bring Unspeakable together.
In preparation to take on the crisis, the showrunner said that he and his team tried to consult as many families, survivors, experts and documents as possible to do the story justice. Although the drama focuses on two fictional families, the Sanders and the Landrys, Unspeakable is based on resources like The Royal Commission of Inquiry into the Canadian Blood Tragedy, Andre Picard's Gift of Death: Confronting Canada's Tainted Blood Tragedy and Vic Parson's Bad Blood: The Tragedy of the Canadian Tainted Blood Scandal.
Despite the show being set in Canada, Cooper said he believes the story has international legs due to the far-reaching impacts of the incident. Unspeakable is the kind of show he thinks the CBC needed to make, he asserts. "We often talk about telling stories that are Canadian stories, about Canadians – and yet, stories that would translate to the world. This is a story that happened all over the world," he said.
Exec producers on Unspeakable include Cooper and Meridian Artists' Glenn Cockburn. Unspeakable is written by Cooper, Carl Binder, Adriana Capozzi and Lynn Coady and sees Callies direct. The series stars Sarah Wayne Callies, Shawn Doyle, Michael Shanks and Camille Sullivan. AMC Studios handles worldwide distribution of the series outside Canada.