From Picnicface to Cavendish
Comedians Mark Little and Andrew Bush discuss the development of their quirky new P.E.I.-set comedy and how Picnicface influenced it.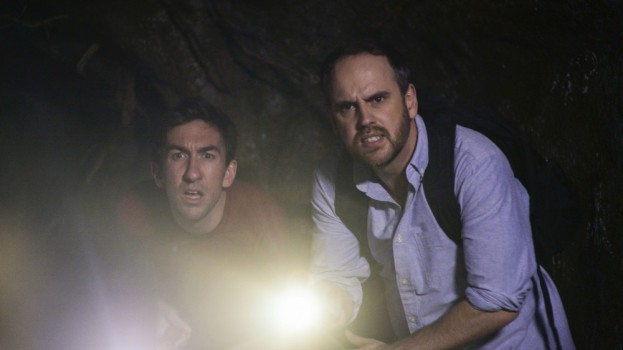 It's taken comedians Mark Little and Andrew Bush six years to make the kind of quirky comedy they want to watch.
The writing duo started working on upcoming CBC comedy Cavendish after the 2012 cancellation of their sketch comedy show Picnicface, which was produced by Breakthrough and aired on Bell Media's The Comedy Network.
After (finally) submitting to CBC what was to be their second and final script during development of Cavendish in 2016, the two immediately decided to completely rewrite it – creating the show they really wanted to do in just four weeks.
It was the kind of introspection only a long development process can bring.
"It was this kind of thing: are we just going to finish what we technically need to do to collect the last development paycheque and walk away – or are we actually going to try to get the show made?'" recalled Little in an interview with Playback Daily.
Happily, CBC liked the new script and the series went into production, with their six-year labour of love debuting tonight (Jan. 8) at 9:30 p.m. ET on the public broadcaster.
Produced by Boat Rocker Studios' Temple Street, which boarded the series in 2017, the show is set in the town of Cavendish, P.E.I. Created by Bush, Little and Carter showrunner Garry Campell, the comedy sees Little and Bush play brothers who return to their birthplace, Cavendish, to take care of their ailing father. Growing up in Toronto, the two had little to do with Cavendish and their dad, but upon returning discover mysterious things afoot in the small town.
Speaking about the similarities between Cavendish and Picnicface, co-showrunner Bush told Playback that Cavendish is more character-driven, although some of Picnicface's "fantastical elements" have carried over. For instance, Cavendish's first episode sees the lead characters uncover a rumour that a beast is lurking in the town.
"We've learned a lot in the time between Picnicface and this show – mainly how to write for TV," Bush joked, noting that he worked on The Beaverton and feature Dirty 30 in the years between the series. "But the experience we had with Picnicface helped shape our tastes and style."
Although they joke about the show's target audience ("Every episode starts with a title card that says are you a man 65 or 66, yes or no? You have to tell the truth," quips Little.) and note the storylines can be hyper-local (episode two features a creepy Anne Of Green Gables cult), the duo say has universal appeal, inspired by childhood trips to the Atlantic provinces and Little's interest in mysteries.
"There is a lot of weirdness in the Maritimes, we're hoping people will respond to it. Trailer Park Boys comes from the Maritimes, [but] this is not Trailer Park Boys," said Bush.
Exec producers on Cavendish include Little, Bush and Boat Rocker's David Fortier, Ivan Schneeberg and Temple Street's Kerry Appleyard. Kurt Smeaton serves as a co-exec producer on the series, while Scott Montgomery is a co-producer. Ginny Jones-Duzak produced the series. Marc Almon serves as a producer. The series is distributed globally by Boat Rocker Studios.