Departure flies to Europe and Africa with NBCUniversal
The Canada/U.K. copro from Shaftesbury and Greenpoint Productions will be broadcast on Universal TV and 13th Street Universal in late 2019.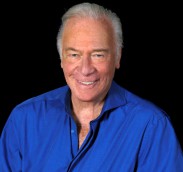 NBCUniversal International Networks has acquired the rights for upcoming drama series Departure, starring Christopher Plummer (pictured), in Europe and Africa.
Unveiled in November, the Canada/U.K. copro from Shaftesbury and Greenpoint Productions will be broadcast on NBCUniversal's Universal TV and 13th Street Universal following its premiere on Global in Canada. European and African broadcast dates are set for "late 2019," according to NBCU.
Developed in association with Corus Entertainment and Red Arrow Studios International, the drama stars Plummer and Archie Panjabi (The Good Wife). Starlings Television, which co-financed the show, oversees Depature's distribution worldwide, while Red Arrow Studios International is the show's global sales agent.
Created by Vincent Shiao, the 6 x 60-minute series follows the disappearance of Flight 716, a passenger plane that vanishes over the Atlantic Ocean. The show follows Panjabi and Plummer as aviation investigators who must race to find the missing aircraft. Departure is currently in production in Canada and the U.K. with 21 Thunder's Malcolm MacRury serving as showrunner.
Executive producers are Panjabi, MacRury, T.J. Scott, Christina Jennings and Scott Garvie from Shaftesbury, Chris Philip and Karine Martin from Starlings and Red Arrow's Henrik Pabst and Carlo Dusil. Shiao is a co-exec producer on the series, while Patrick Cassavetti, Tina Grewal and Julie Lacey serve as producers. In addition to MacRury and Shiao, writers on the show include Ellen Vanstone, John Krizanc, and Stephanie Tracey. Departure is directed by Scott, David A. Stern and Matt Geller.
This is the second Canadian series to be acquired recently by NBCUniversal for international territories. Coroner, produced by Muse Entertainment, Back Alley Films and Cineflix Studios, was also acquired for broadcast in Germany, Africa, the U.K., France, Spain and Poland, in addition to Latin America and Brazil. The procedural premieres tonight at 9 p.m. on CBC.