Prominent indie producers named to Order of Canada
Shaftesbury's Christina Jennings and Insight's John Brunton and Barbara Bowlby are among those honoured for their contributions.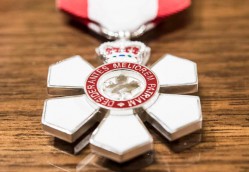 Shaftesbury's Christina Jennings, Insight's John Brunton and Barbara Bowlby, Weengushk Film Institute (WFI) exec and artistic director Shirley Cheechoo and former Quebecor Media chairman Serge Gouin are among 103 new appointments to the Order of Canada.
Announced on Dec. 27 by Governor General Julie Payette, all five will receive the title of Member for their contributions to Canada's film and TV industry. One of the country's highest honours, the Order of Canada recognizes individuals who have helped shape Canada through their achievements, with the title of Member recognizing a person's work in a specific field or at a regional level.
Bowlby and Brunton will be jointly honoured for their work in the Canadian broadcast industry. Last year saw Boat Rocker Media acquire a majority stake in the prodco behind The Amazing Race Canada, The Launch and Top Chef Canada, while Bowlby stepped down from her post as COO and president after nearly four decades. Bowlby is still a senior advisor and shareholder at the company, while Brunton is chairman and CEO.
Meanwhile, Jennings, founder of the Toronto-based prodco behind Murdoch Mysteries, Frankie Drake Mysteries and Carmilla, will be honoured for her "commitment to the Canadian film industry and for her promotion of women in this field."
Throughout her career she has collected a number of career prizes and accolades, including the CFC's Award for Creative Excellence, the Banff World Media Festival's Innovative Producer Award and Playback's Producer of the Decade in 2010. "Now to be named to the Order is a wonderful recognition of 30 years of bringing Canadian stories to the world. I'm honoured to be counted among the extraordinary women and men who have contributed so much to our country," Jennings told Playback Daily from London, England.
A member of the Cree Nation, Cheechoo currently serves as chancellor of St. Catherines, ON-based Brock University. In addition to founding the WFI, a not-for-profit film and TV training centre for Indigenous youth on Manitoulin Island, she is an an alumna of the CFC, the Sundance Film Institute and the Banff Centre. Her previous credits include the 2013 feature Moose River Crossing and the documentary Pikutiskaau ("Mother Earth"), to name a few.
The award-winning filmmaker, actor and visual artist will receive the distinction for "her multi-dimensional contributions to Canadian film and her support for emerging Indigenous artists," according to the announcement.
Finally, Gouin, who departed Quebecor Media in 2013, has been appointed to the Order of Canada for his contributions in the TV broadcasting, cable television and telecommunications space, in addition to his involvement with various charitable organizations. Gouin has also previously served as president and COO of Le Group Videotron and president and CEO of TVA Group (previously called Tele-Metropole).
Honourees will be invited to a ceremony held at a later date.
Photo: MCpl Vincent Carbonneau, Rideau Hall. Courtesy of the Governor General of Canada.