Deals: Sinking Ship, Bell Media, PNP, Cineflix Rights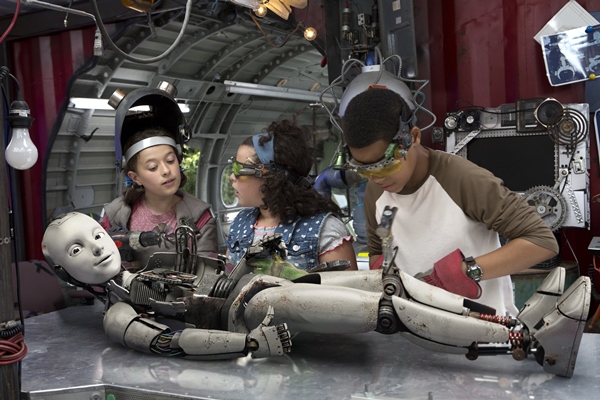 Sinking Ship selects China's Jolly Group to help it expand in the region, while Bell Media's TSN and RDS renew their multi-year broadcast deal with UFC.
Sinking Ship Entertainment
Toronto-based Sinking Ship Entertainment has inked a deal with Hong Kong-based distributor Jolly Group to represent Odd Squad, Annedroids (pictured) and Chirp in the region, marking the first time the Canadian prodco has appointed an agent in China specifically. The agreement will see Jolly Group—formerly PPW Digital—handle distribution and licensing for the properties as well as find new digital opportunities for Sinking Ship content in China. The company will also be responsible for creating strategies for licensing and merchandising in the territory. Jolly Group has more than 20 branches on five continents and reps other hit preschool properties including Peppa Pig and Teletubbies. The appointment comes as the prodco continues to expand the global presence of its kids content, with China being a major region of focus in the year ahead. Recently, German kids broadcaster KiKA picked up the second season of Odd Squad for German-speaking Europe last month, and Nat Geo Kids LatAm snapped up pay-TV rights for season one and two of Sinking Ship's live-action/CGI series Dino Dana. Sinking Ship also recently partnered with the Royal Ontario Museum on the museum's latest exhibition ZUUL: Life of an Armoured Dinosaur, which opens on Dec. 15.
Pacific Northwest Pictures
Pacific Northwest Pictures (PNP) has acquired the Canadian distribution rights to feature-length dramedy Happy New Year, Colin Burstead, written and directed by Ben Wheatley (High Rise). The film tells the story of a man who rents a lavish country manor in which his extended family can celebrate the New Year. Unfortunately for Colin, his position of power in the family is under serious threat from the arrival of his estranged brother David. PNP acquired Canadian rights via a deal with U.K.-based Goalpost Film, which sells international rights to the picture. The film is produced by Andy Starke through Rook Films.
Bell Media
Bell Media specialty network TSN and its French-language sports channel RDS have renewed a multi-year broadcast partnership agreement with martial arts organization UFC. The deal includes broadcast and digital rights across TSN and RDS networks, as well as coverage on other Bell Media platforms. Content will also be shared on social and streaming channels, including short-form video platform Snackable TV and SVOD Crave. The agreement stipulates that TSN and RDS will be home to 22 UFC Fight Night main cards, late preliminaries and preliminary fights ahead of UFC's 12 pay-per-view events. The networks will also air Dana White's Tuesday Night Contender Series, a reality program, now in its second season, which features 10 men vying for recognition as the next generation of UFC fighters. In addition, TSN viewers will have access to UFC content from ESPN as part of the partnership. The deal renews a partnership between TSN and UFC that dates back to 2015.
Cineflix Rights
Cineflix's U.K. distribution division, Cineflix Rights, has acquired the worldwide rights to the feature-length documentary White Boy from Transition Studios. White Boy (1 x 90 minutes, for Starz in the U.S.) is a factual account of the life of Richard Wershe Jr., dubbed 'White Boy Rick'. Set in mid-1980s Detroit, in the midst of the city's crack cocaine epidemic, the media speculated that Wershe was operating as a drug dealer among the sophisticated street gangs and making millions of dollars. In reality, the teen was pushed into the business by FBI agents and police officers hoping to use him in a corruption sting to get their main target – mayor Coleman Young. Once law enforcement was done with Wershe, they left him to fend for himself and he continued in the drug trade until he was arrested and jailed for life. Thirty years later, Wershe still remains in prison. The deal was brokered by Giuliana Benvenuto, acquisitions manager, North America, Cineflix Rights and Nick Savva, director of content distribution, for Transition Studios.
With files from Media in Canada, Realscreen and Kidscreen