Corner Gas secures first int'l streaming deal
Producer Virginia Thompson shares details on the deal to see the comedy stream in over 60 territories via Amazon Prime Video.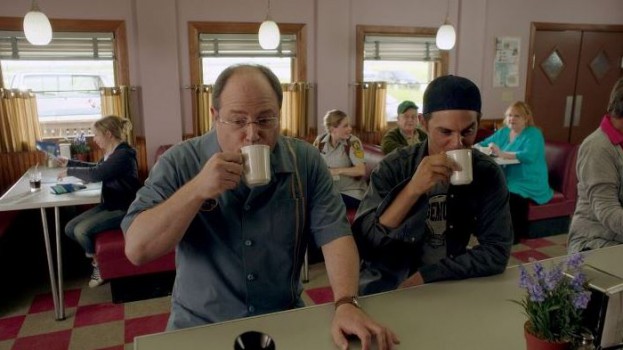 Classic Canadian comedy Corner Gas (Vérité Films, 335 Productions) is heading into more than 60 territories via a new streaming deal with Amazon Prime Video.
Starting this week, all six seasons of the half-hour series and its 2014 film Corner Gas: The Movie will be available in territories like the U.S, U.K., Australia, Iceland, Denmark, Kenya and the Philippines, to name a few.
Produced in association with CTV and The Comedy Network, Corner Gas originally aired from 2004 to 2009 and follows a cast of characters based out of a fictional Saskatchewan town. Over the course of its 107-episode run, the show maintained an average audience of 1.4 million viewers, while the comedy's season finale saw 3.02 million viewers tune in, according to a release about the deal.
Most recently, the show has been rebooted as a 13-episode, 30-minute animated series titled Corner Gas Animated (produced by Prairie Pantoons, 335 Productions, Moving Mountoons). In April, the debut of the cartoon version drew record ratings for a Canadian series on Comedy Network and has since been renewed for a second season.
The agreement with Amazon marks Prairie Pants Distribution's first international streaming deal for the Corner Gas franchise. Established in 2014 to distribute Corner Gas: The Movie, the distributor is a combination of Vérité president Virginia Thompson, 335′s Brent Butt (Corner Gas' leading man) and David Storey, who are all exec producers on the franchise.
Vérité's Thompson told Playback Daily that getting Corner Gas to international fans has always been a priority for the brand, but it is a matter of doing it in the right way. She points to the success of Corner Gas: The Movie's kickstarter campaign, which received backing from a high percentage of international contributors and surpassed its funding goal within one day.
"One of the challenges with the brand was how do we find a streamer that can put us where our fans are. And our fans are in the U.S., in the U.K., in Australia and in New Zealand," said the exec producer. She calls the deal a "perfect fit" as it allows the show's entire library to be accessed on one platform and for Bell Media to retain exclusive Canadian rights.
With the streaming deal breathing new life into the franchise in international markets, Thompson said the team is now turning its attention to ways in which it can establish the animated series in the international market.
"The key is that we've always been very respectful of our fan base and respectful of our brand," she said.