A 'suite' goodbye: Barbara Williams
Playback pays tribute to Williams' 30-year TV career, which started in the newsroom of Citytv and wrapped in the C-suite of Corus Entertainment.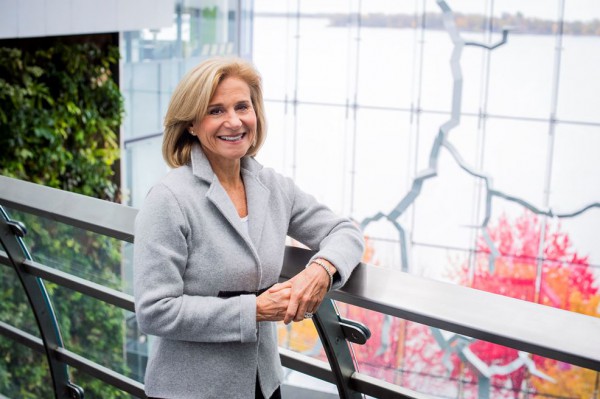 By Fiona Morrow
In October of this year, the same month she turned 60, Barbara Williams ended a stellar career in television, retiring from her role as executive vice president and chief operating officer of Corus Entertainment. She left at the top of her game – one of the few Canadian women to have made it into the C-suite – and on her own terms, raring to start the next chapter in a very full life. Behind her, she leaves a legacy in the Canadian TV entertainment world that few can match: the doyenne of lifestyle and reality brands; a fiercely competitive buyer in the annual U.S. TV market; and a champion of women working their way up the industry's executive ranks.
We speak the Monday morning after she retired, and Williams is relaxed, excited, and maybe just a little unnerved by having nothing she absolutely must do. She woke up and, for the first time in years, did not immediately reach for her phone to check the weekend ratings. She is friendly, chatty and, as one might expect, fully prepared for this interview.
Born in Welland, ON, she was the third of four children. The atmosphere at home was politically charged and socially conscious. Her father, Lynn Williams, was to have been a clergyman, but after the Depression he looked to the labour movement to help people instead. He was a founding member of the NDP, and eventually became the first Canadian leader of the United Steel Workers of America. He was also a huge influence on his daughter.
In high school she signed up for everything – sports, choir, student council – compelled to be involved. In college she majored in political science and economics, always interested to understand how theories played out in people's real lives. A year as a receptionist at a radio station sealed her passion for the media, and she headed to Syracuse to take a Masters in Telecommunications with the intention of pursuing a career in news after graduating in 1982. When she eventually walked into Citytv to start a job as writer on the business section of the 6 p.m. news, she thought this was the start of something serious.
"But it just didn't grab me the way I expected it to," she laughs. So when Citytv launched a new chat show – CityLine – in 1984 and the producer asked Williams if she would join the team, she jumped at the chance. "And that was the end of my news career, and the start of my career in entertainment."
It was also the beginning of the mantra she has lived by ever since: Just say yes.
"I've always held that attitude, and it's something I have told every person I've had the opportunity to mentor over the years: Say yes, because you never know what it might turn into."
During her time at CityLine and, a few years later, at CTV, co-producing The Dini Petty Show, Williams honed her passion for daily live TV and became hooked on the adrenaline rush. She really wasn't looking for anything new when Atlantis (which would later become Alliance Atlantis) came calling wanting to chat about its newly launched specialty channel Life (now Slice). "I really had no intention of going there," Williams recalls. "But they wanted help producing some shows for the channel, I liked the people, and I was being offered something fun, fresh and new."
"It's been spectacular… I have no regrets, and I am excited for the future of television."
Specialty TV came naturally to her – as did her instinct to create Canadian versions of successful lifestyle U.S. brands. It made sense to her to take the format expertise of HGTV and the Food Network, and combine it with a Canadian perspective. "The great passion for me was to really support a Canadian industry," she explains. "By trading on the value of a U.S. brand it gave us a leg up to learn and develop our own expertise. You build your own franchises by using U.S. content as a springboard, and give Canadian producers the opportunity to develop Canadian lifestyle shows."
Her business sense was proven correct, and she began working her way up the ranks from producer to scheduler. There was so much growth, and the industry was so buoyant at this time, that she says (with only the merest hint of irony) even the women were getting good jobs. Her own skill set was also growing, along with her interest in the business of television – and its boardrooms. When she left Alliance Atlantis, she was senior vice president of lifestyle programming.
She had been tempted away by the prospect of building a brand new TV station – Toronto 1 – from the ground up. "We had to find a building, staff, launch a newsroom – it was so exciting."
It was also short-lived: after a year, the channel was sold to CHUM. "I have never regretted it," Williams insists.
It didn't take long before the phone rang with an offer: in 2005, Canwest asked her to run programming at Global. It felt like coming home. Williams embraced network TV and the opportunity to be reattached to a newsroom. She also was responsible for buying U.S. content, and started attending the LA Screenings.
Though she says that negotiating with the U.S. networks was challenging, she drew on her father's experience and wisdom. "He told me: 'Don't back down easily, but always be fair and reasonable. You're looking for the win-win: a good negotiation is one where both sides feel good about walking back into the room.'"
Williams loved Canwest. "The first years were amazing. We had incredible success with Canadian shows and grew the Global News brand." Under her leadership, Global also began making inroads into CTV's dominance of primetime.
She knew she needed someone on the Canadian side of the business, and recruited Christine Shipton as VP of original content who, in one year alone, commissioned a reported 700 hours of Canadian programming (and whose tenure would include hit shows such as Vikings and Rookie Blue). Though Williams is often lauded as a successful negotiator on the U.S. side of things, Shipton balks at any notion that her boss thought less of homegrown content. "She had to run a machine and make sure the company was making money, and the only way was through acquisitions. But she was a true champion of expanding Canadian content, and I could not have done any of it without her signing the cheques."
It was also at Canwest that Williams launched ET Canada which, according to Sholeh Fabbri, currently executive producer of the show, proved a game changer.
"I was working at a competing network where I launched a since-cancelled, competing entertainment show on the same night and remember watching ET Canada closely," she says. "For Barb, having a platform to celebrate what Canadian celebrities were doing and promote the Canadian coverage of the story was an important part of what the show was meant to do, and it has helped to create and establish a Canadian star system.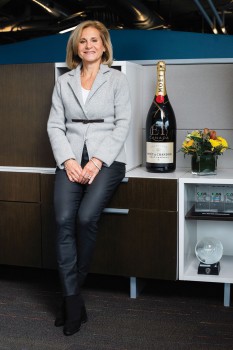 "Barb has also been a true champion of women in this business. The show has been run by a woman for the majority of its 14 seasons, which certainly sets it apart from the competition – I've worked at ET Canada for over 11 years and almost exclusively had women managers who reported to women."
But Canwest filed for creditor protection in 2009 and, if Williams' leadership was ever going to be truly tested, this was the time. Typically, she remembers it as another learning opportunity. "It was hard," she admits. "Trying to lead a team through that period with our integrity intact, but ultimately we did stay on track." Her stated goal was to make sure that every single Canadian producer was paid and she remains fiercely proud that was achieved.
"She protected the team through that," Shipton notes. "I wasn't in the boardroom and she never shared what was being said. But I think it was really hard on her, and it was down to her determination that we paid every single Canadian what they were owed."
When the assets of the company were sold to Shaw Communications in 2010, Williams was named SVP of content at the company's new division, Shaw Media, and she jumped in, excited to learn the business of cable and internet and energized by what the combination of the two companies' assets could bring. By 2014, she was leading the whole division as president of Shaw Media and two years later, led the sale of Shaw Media to Corus. The deal made sound business sense, she says, and it was important to her that it was not just done well, but that the Shaw team would "land well" at their new company. "I felt I really had something to offer in the integration and creation of Canada's largest pure-play media company."
Once the dust settled she realized it might be time to look to her own future. "The company was in a good place, the senior leadership team was strong, and the business plan solid. But I came home from the LA Screenings last year and questioned what was in it for me to stay on. I was going to be turning 60 – a major milestone – and it was time to think purposefully about what I wanted to do with that next phase of my life.
"It's been spectacular, but I just wanted to stop and catch my breath. I have no regrets, and I am excited for the future of television. All the disruption I worked through made me comfortable with ambiguities – operating in grey areas and not having a definitive answer.
"But I haven't achieved any of this alone: you might bring a certain wisdom or vision, but success comes from the whole team."
News of her retirement prompted a flood of cards and notes and emails. Among them, a significant number from women who had nothing but praise and thanks for her leadership and support in showing the way through the glass ceiling.
"Barb has been a pillar of TV entertainment for 30 years," notes Jocelyn Hamilton, eOne's president, Canada, Television. "She's been a courageous, inspiring leader and has always supported ingenuity. Shows like Rookie Blue, Mary Kills People – these were all-female led series she championed.
"There aren't many women in the C-suite of major companies, and we are losing an important voice. I consider Barb to have been part of everything I do."
It's a legacy of which Williams is rightly proud. "I have always put women in senior roles where I could, and encouraged them to feel qualified and confident to put themselves forward for big jobs; that they – like me – could manage a high-level career and a family. And that came back to me in spades when I said I was leaving.
"The response made me so proud, and also truly humbled and grateful."
The article originally appeared in the Winter 2018-19 issue of Playback magazine.