Playback's 2018 Channel of the Year: OUTtv
"This year established a strong proof of concept in respect to our overall strategy," says Brad Danks, citing globalization and direct-to-consumer relationships as key goals.
LGBTQ network OUTtv took its highly targeted, audience-focused strategy for content creation to the next level in 2018, expanding into multiple English-speaking territories and commissioning a raft of new series. Over the course of the year, OUTtv inked a deal for a "pop-up channel" with pay TV network MultiChoice South Africa, licensed its brand, channel and content to New Zealand's TVNZ on-demand platform in a multi-faceted deal and greenlit 11 originals including Sense Appeal (Go Button Media), The Whole Package (Convergent Entertainment), Drag Heels (Border2Border Entertainment) and Mom vs. Matchmaker (Go Button Media, pictured).
Here, CEO Brad Danks (pictured) discusses how those deals came to be, how they fit into the network's strategy, and challenges facing the business environment in Canada.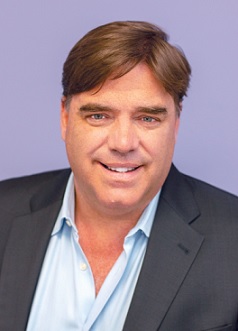 Playback: Talk about the growth of OUTtv to date and how 2018 defined it.  
BD: We realized there was an opportunity to engage with our audience globally and there was a hole in the market, which was one of the things that [initially] attracted us to the LGBTQ [market]. The way I would phrase it is that there was an audience but no market: we knew there was somebody there to watch the content and even pay for it but there was no way to reach them in order to achieve that. And so we set about building that over the last decade.
This year established a strong proof of concept in respect to our overall strategy, which is to globalize our brand, sell content on multiple platforms and to develop a stronger direct-to-consumer relationship. There isn't a lot that is novel in that statement – it's about the fact that we were able to execute it.
The highlight really was the first sets of reports we got out of New Zealand [where OUTtv operates a VOD channel]. The wonderful thing about the digital world is everything is real, as opposed to a broadcasting system, which is so opaque. When you see the numbers and you see what's really going on, it's very exciting. These aren't numbers in the millions yet, but as they go into the hundreds of thousands you begin saying to yourself, you know what? This is the future.
PB: How has OUTtv built out its strategy? 
BD: It started with a three-pronged approach. One was to partner with companies in other countries. The second one was to go through technology companies – in the early days it was Apple, iTunes and Google Play but recently we've done well with Amazon as well, and we're currently increasing our reach with Roku. While it was important that we get [OUTtv] into the Canadian market, it was also important to find other opportunities, so we did a number of shows with Logo TV in the U.S. and with several other partners in Europe. Two years ago we decided to go through a refinancing of the company to build up and also to [execute] the third component of that [strategy] – to develop a direct-to-consumer platform. That [led] to the launch of OUTtv Go two years ago in Canada. It was designed to capture the cord-cutting and younger demographic, and it's doing really well – it's gone up a lot almost up 300% in terms of subscribers.
PB: How did the deals in New Zealand and South Africa come together?
BD: For companies like TV New Zealand, Channel 7 in Australia and DSTV in South Africa, they're feeling the pressure of the American companies and they're looking for partnerships that will sustain them. They've been, in some cases, losing their U.S. brands and losing out on premium content. Now clearly OUTtv is not going to replace all these American relationships but we're part of a larger strategy where they want international partnerships, for acquisition but also for coproduction. One of the things that happened very quickly in New Zealand is we ended up in a coproduction involving TV New Zealand and Warner Bros. International Television Production New Zealand for a series we're going to do called Drag House.
PB: What do you think Canada brings to the international market as a partner?
BD: [Drag House] is a good example because these companies are all looking for original programs too. They'd been involved in development of [the series] and they said "you know, this might work for you." Now we're in a partnership with them, and similar conversations are going on with people in Australia and other places in the world.
Canada has always been great about negotiating these coproduction agreements around the world but, in the past, we assumed the way for it to happen is two producers to get together in both countries and figure out how to produce. That model has not been successful, and I doubt it ever will be successful because, at the end of the day, you have to get two companies that are aligned in terms of the distribution side as well. You're more likely to see those coproduction agreements become active on dealings like we have with DSTV in South Africa.
PB: In your opinion, what are some of the issues facing the business in Canada?
BD: I don't think there's a single problem within the broadcast system that doesn't start with vertical integration. It was a massive mistake that we knew would be a mistake. We didn't know it would be as bad as it was, but it's clearly caused a lot of problems within the system and has left Canada much less competitive in terms of our broadcasting system. I think it's cost us millions of dollars of production and certainly thousands of jobs.
It was said at the time it would make us more competitive, but it did exactly the opposite. What it did is make four companies more competitive against their Canadian competitors. But it did nothing to make Canada more competitive globally.
The reason for that is that they didn't make any investments in programming outside of Canada and they simply used their ability to dominate the market to push out other players. They used the additional revenue to be able to buy more American content and it prevented them from having to do what we all have to do now, which is become exporters. Simple way to look at it as we went vertical as a nation, as a policy, when the business was going horizontal, meaning global.
Now there's the opportunity for U.S. services to go direct to consumer. So they're thinking, "Well is it better that we hold onto [programming] ourselves?" We've seen this creeping up over the last number of years, and it's created an understanding on our part that you can't possibly make it just in Canada. This becomes the ultimate critique of vertical integration and why it's just such a dumb idea. At some point in time those costs are going up and your revenues are going down because you've got competition that you can't compete with.
Our broadcasting sector should be negotiating deals that get us more horizontal, global, distribution. And that could be done. But there has to be a fundamental understanding that this is the thing that needs to be done.
PB: In 2018, how do you view Canada's place in the global entertainment landscape?
BD: When you travel around the world and talk to people in Sydney or Johannesburg and certainly in Europe, they look at what we have here in Canada and they're amazed at how much we can do. We spend too much time navel-gazing and looking at the U.S. and saying that if we're not the U.S., we're nowhere.
That's the biggest failing of the last decade in our policy and our thought process. Canada has one of the great industrial clusters in this business on the planet. International markets in content are growing rapidly, and we have the opportunity…maybe if we don't win the gold medal but we win the silver or bronze. And in that case we have a huge industry in comparison to other places in the world. But we spend way, way too much time thinking that if we're not making a Game of Thrones we're no one. What we really need to do, shockingly, is make shows that actually return the investment on them. It's an amazingly novel concept.
Selections from this interview appear in Playback's Winter 2018/19 issue