WIFT-T, Hollywood Suite partnership seeks to amplify fundraising, reach
Heather Webb and David Kines discuss the effectiveness of donation-matching, how funds are used and why WIFT-T's mission matters.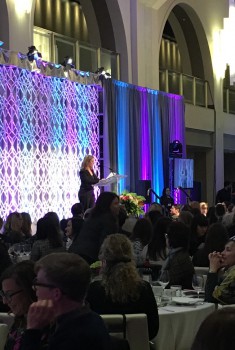 Tis the season for feel-good stories and if you were at this week's WIFT-T Crystal Awards, you might have been inspired to fill out a donation card while listening to the very-inspiring speeches from the likes of Edwina Follows (left) and Deborah Day.
A fundamental aspect of any fundraiser, the cards also included an incentive – that Canadian broadcaster Hollywood Suite would match all donations to the organization in December, dollar-for-dollar, up to $15,000.
It is the second time the broadcaster has teed up the funds in support of WIFT-T and the incentive was two-fold, says its president, David Kines. Firstly, he believes in WIFT-T's mission because he believes more women achieving success in the business is only a good thing. And secondly, he believes donation-matching has the ability to ampify the company's investment, and increase engagement.
"It's a chance to use our megaphones for good," Kines told Playback Daily. "We wanted to figure out a way to involve our customers and suppliers in this charity more than just saying 'we made a donation in your name,' so we came up with the matching idea. It gets clients and suppliers to have a little more stake in [the charity]."
And while donation-matching is a popular fundraising technique, it is the first time in WIFT-T's 30-year history that it has used it, says outgoing WIFT-T executive director Heather Webb. No company had ever approached them with the idea before. "They were really proactive," Webb says of Hollywood Suite. "When you're working on a non-profit you're so used to going out and asking for money and to have someone call you out of the blue and to say 'this is what we want to do and we're going to be there 100%' is remarkable to me."
The $25,000 raised by the 2017 campaign funded a number of WIFT-T initiatives, including the Corus Media Management Accelerator program, a 56-hour intensive program developed with Ryerson University's G. Raymond Chang School of Continuing Education, and the Media Leadership Program, a 96-hour professional development intensive taught by Schulich School of Business MBA faculty.
The purpose of the programs is to provide students the crucial business management and leadership skills to become industry decision-makers and entrepreneurs. "A lot of the professional programs we do focuses on the business side of the industry because that's where we think there is a gap," said Webb.
The donations from the campaign offer the opportunity to develop a strong business acumen, according to Webb. They especially help underrepresented groups, such as Aboriginal women and those in lower income communities, who are given tuition-free bursaries to attend the programs in order to bring more equity and intersectionality in Canadian media. Seven bursaries were given in 2018 as a result of the 2017 campaign.
Kines says the math on supporting women's success in this business is simple: "If you don't have proper representation of your customer base in your staff, you're missing the mark," he argues. "It's not just the right thing to do, it's the right thing to do for your business. You want that diversity of voices."
The 2017 campaign donations also gave WIFT-T the first-time opportunity to give a total $5,000 in cash prizes to the winners of their annual showcase, held Apr. 2018. If the 2018 campaign is successful they plan to award cash prizes again in 2019.
The most important aspect of the campaign, Webb said, is how it raises the profile of the organization, attracting new donors toward long-term impact. "I hope that more companies pick that up and do the same thing, whether it's for WIFT-T or one of the other amazing, deserving organizations in our industry," said Webb. "It's a great way to leverage community support."
As of press time this year's campaign has raised more than $3,500 of its $15,000 goal, however, with all those paper cards yet processed, it is likely the total is much higher.