Zoe Dirse, Amar Wala win DOC Institute's top honours
The veteran cinematographer won the Luminary Award while the In the Making director took home the Vanguard Award.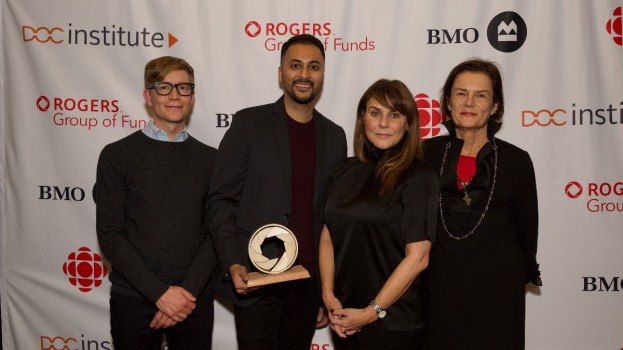 Cinematographer Zoe Dirse and writer/director Amar Wala were awarded the top prizes at the DOC Institute's annual award celebration, held Dec. 5 in Toronto.
Dirse was presented with the institute's Luminary Award, which honours industry leaders who are an inspiration for emerging filmmakers. She was recognized for her lifelong achievements and for paving the way for aspiring cinematographers. Dirse is also a recipient of the Women in Film & Television – Toronto's mentorship award handed out at the Crystal Awards Gala this month.
The veteran cinematographer has had a prolific career, with close to 70 documentaries created over the span of 30 years. Dirse has won multiple awards for her work, including feature documentaries Forbidden Love, Shadowmaker, and Jane Role: Fiction and Other Truths. Her more recent work includes Runaway Grooms, which earned a Gemini for best documentary in 2005, Vendetta Song, and Tiger.
"My love for documentary has always been a driving force in shaping my cinematic career," said Dirse, adding that the NFB has been a crucial part of that process.
Meanwhile, Wala was awarded the Vanguard Award, honouring emerging filmmakers with the potential to innovate within the industry.
His documentary feature debut, The Secret Trial 5, earned Wala the Magnus Isaacson Award at Rencontres internationales du documentaire de Montréal (RIDM) and a Special Jury Mention for Emerging Filmmaker at Hot Docs in 2014. He recently directed the CBC documentary series In The Making, and currently serves as chair of Toronto's Images Festival.
"When I look at the names of past winners of the BMO-DOC Vanguard Award, I am in awe of the talent, compassion, and generosity of these filmmakers," said Wala. "To have my name included alongside artists I admire so deeply is beyond humbling."
Last year's DOC Institute honourees were EyeSteelFilm founder Daniel Cross and filmmaker Victoria Lean.
Pictured from L to R: BMO Bank of Montreal's Kelly Jenkins; BMO-DOC Vanguard Award winner Amar Wala; Rogers Group of Funds' Robin Mirsky; Rogers-DOC Luminary Award winner Zoe Dirse