Playback's 2018 Showrunner of the Year: Simon Barry
His sci-fi series Ghost Wars may have ended this spring, but veteran showrunner Barry had plenty more up his sleeve.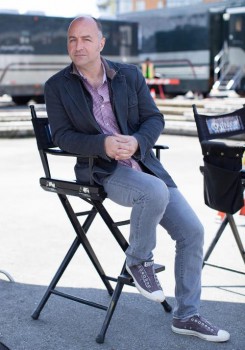 Every year, Playback selects individuals, companies or projects that made an impact in that year for our Best of the Year feature in our Winter issue. This year, we kicked off with Jennifer Twiner McCarron, CEO of Thunderbird Entertainment, as 2018′s Exec of the Year, while Schitt's Creek is 2018′s Show of the Year. Today we are pleased to present Playback's 2018 Showrunner of the Year, Simon Barry.
Veteran writer/exec producer Simon Barry has long been one of the foremost showrunners in the Canadian TV industry. But even by this standard, 2018 was a stellar year. It perhaps did not start as smoothly as he'd have liked, with the cancellation of his Netflix/Syfy sci-fi drama Ghost Wars after one season. But Barry quickly found the silver lining, capitalizing on his new relationship to pitch, and ultimately get greenlit to proceed on, Warrior Nun, a 10-part supernatural series based on a comic. The forward momentum continued as Creeped Out (on which Barry serves as an exec creative consultant) and Bad Blood (a series he exec produces) were both renewed, the Jim Henson Company joined Omnifilm on another series he is developing as EP, live-action fantasy drama Knights of Panterra and his Vancouver-based prodco, Reality Distortion Field, continued to move forward on development with a trio of TV projects.
Playback: Can you give us an overview of your year, and what made it exceptional?
Simon Barry: I started the year coming off the heels of my show Ghost Wars being cancelled, but… it was kind of a curse and a blessing. Ultimately, the cancellation of Ghost Wars allowed me to forge some great new relationships with people at Netflix.
They invited me in to pitch right away at the beginning of the year. Let's just say that I pitched them six ideas that they were not super keen on and the seventh idea was Warrior Nun, which ended up going into soft development in terms of [an] outline pitch document format – which ultimately, when it was delivered, Netflix decided to trigger it and order it to series. At that point they asked me to put together a production team and a writers' room. That was sort of the right spot and for the last two months I've been working with a group of writers in Los Angeles for this show, which just got announced. We've been hard at work all summer getting the production team together and putting together the writers' room and now we're writing scripts.
And then on the other front, my company, Reality Distortion Field, has been finding some wonderfully talented writers in Canada to work with and to develop material. We can hopefully move [these projects] down south to some of the U.S. broadcasters or streamers, and to some of the Canadian broadcasters, [to] get some more shows set up that I can hopefully help oversee and mentor future showrunners.
PB: To frame your year in terms of challenges and opportunities, how would you characterize the end of Ghost Wars? 
SB: From a point of view of a challenge, you never go into a show expecting to last only one season. We had all this momentum going into Ghost Wars [ahead of its premiere]. It was really a downer to let people know that it wasn't going to be coming back. You question yourself a little bit about what you could have done better, what went wrong and how it played out.
But you need support from the broadcaster to market and promote the show and if they don't do that, it's very hard to find an audience, especially in a world where there's 400 to 500 shows. We were sort of at the mercy of a small, grassroots word-of-mouth campaign that was enough to keep a certain number of people watching but not enough for the network to feel super enthusiastic about renewing it.
PB: And opportunities?
SB: We're witnessing a moment in time where Netflix is changing the rules. Their appetite for content has changed the way we approach making or pitching our shows and structuring what shows we take on. We're part of that process but we're also looking ahead at how that's going to evolve and how we can build on this one success of Warrior Nun and convert it into multiple shows with Netflix… The appetites for programming shift when you have that big an audience and it has made for a very optimistic business model in television.
PB: You are a Canadian working on both sides of the border: how do you view the opportunities for Canadians and/or Canadian shows? 
SB: In the broadcast space there's been a bit of a contraction. When you look at CTV, Corus and even Rogers, they're making fewer Canadian shows and buying more international and American shows. The idea of regional content is starting to evaporate in the sense that writers are no longer thinking about creating shows that are specifically for Canadian audiences. I mean, now, I think they sort of feel an obligation to bring shows out that are much more geared to a global audience. That's a big shift in the security of being able to really work in the Canadian system, but I think for new writers and emerging voices it's been pretty challenging.
A show like Bad Blood, which was commissioned by Rogers and will hopefully get picked up for streaming globally, is a great example of a show that you can see the Canadian roots. It has Canadian talent across the board but travels well because stories about gangsters are somewhat familiar to all audiences. I think that more shows like that, generated within the Canadian system for potentially Canadian broadcasters that are clearly designed to travel well will help the Canadian marketplace in terms of keeping Canadian writers engaged on a Canadian product. But the truth is, it's going to be harder and harder to make a living as a Canadian director if the broadcasters here don't open up their wallets and start spending more on development and producing indigenous productions. [Editor's note: Season one of Bad Blood was acquired by Netflix in late November.]
If I was a young writer right now, working in Canada, I would be looking for ways that I could promote myself south of the border or anywhere where you can say "Hey, I have a voice, I have a talent, I have a specific show idea." You will always be looking at a global audience as the target and the people who are investing in content are definitely thinking that way as well. As a journeyman writer, I think it's incumbent to build as big a network as you can and make producers aware of your writing abilities so that you can be flexible – if you can't find a room in Canada, you can hopefully find a room in the States or somewhere else. You can see the shift in terms of volume of production that is happening and it's really being driven by streaming systems, not traditional broadcasters.
PB: One of the big issues impacting the industry this year was safe work environments. How did this impact you and your business?
SB: I think people are thankfully more apt to speak up now when things are bad and I think that's a good thing. As far as I'm concerned, the fewer assholes I have to deal with in this industry, the better everyone's life is, I think.
This interview has been edited and condensed; selections from this interview appear in Playback's Winter 2018/19 issue