Gusto unwraps holiday specials, South Korea deal
Four new festive episodes of Flour Power will debut this month, plus Gusto Worldwide Media sells two seasons of the show to UMAX.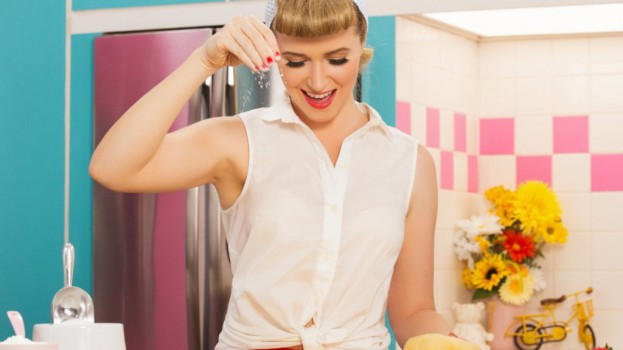 Bell Media specialty channel Gusto has unveiled a raft of new culinary specials featuring chefs Spencer Watts, Michael Bonacini and Jessica McGovern.
Among them are a pair of one-hour specials, Spencer's Big Holiday and Bonacini's Italian Christmas, in addition to four new episodes of the Ottawa prodco's half-hour baking series Flour Power.
Bonacini's Italian Christmas, set to premiere on Dec. 18 at 10 p.m., puts a festive twist on Bonacini's Italy and sees the chef exploring different regions of the country, sampling various holiday dishes. Meanwhile, Spencer's Big Holiday, which is an extension of Spencer's Big 30, sees Watts giving tips and tricks for dealing with the holiday season. It premiered on Dec. 4 at 10 p.m.
Michael Bonacini's Christmas At the Farm, another one-hour special featuring the chef, is also set to return to the channel. Introduced last year, the show is set to air again on Dec. 11 at 10 p.m. and will focus on Bonacini recreating classic Welsh and Italian dishes from his childhood. Nigella Lawson's Nigella's Christmas Table will also air on the channel, making its Gusto premiere on Dec. 20 at 10 p.m.
Gusto's in-house baking series Flour Power, hosted by McGovern, also returns with four new episodes: Twists on the Classics, Thanksgiving, Big Wow Desserts and Edible Gifts. Twists on the Classics and Thanksgiving debuts on Dec. 10 at 10 p.m., followed by Big Wow Desserts and Edible Gifts on Dec. 17.
In other Gusto-related new from the week, Gusto Worldwide Media announced the sale of season one and two of Flour Power to South Korean pay-TV channel UMAX at the Asia TV Forum (ATF) this week. The deal strengthens Gusto's foothold in Asia, according to the company's senior director of international sales, Corey Caplan, and follows a number of other deals the company has struck in the region. The sale marks the prodco's second deal with UMAX, following the channel's pick up of A Is For Apple (30 x 30 minutes) in 2016, and Gusto's most recent foray into Asia following the launch of its linear TV and OTT offering in Singapore via pay-TV operator StarHub.
"As media accessibility grows in Asia, we're looking to expand the launch of Gusto TV and [build on] the success of our launch in Singapore with StarHub," he told Playback Daily.
Caplan explained that Gusto's TV and OTT launch on StarHub has allowed the prodco's content to reach new international audiences and spark discussions with new potential partners in the region. At ATF this week, he said Gusto hopes to further discussions for its linear offering and content with both new OTT platforms and traditional players.
"Our content is seen in over 150 countries, so [potential partners] see that our content works on a universal scale, they see that our content is a high-quality premium offering, that it separates itself from our competitors and alternatives in the field with our turnkey packaging," said Caplan.