TIFF lifts the curtain on Top Ten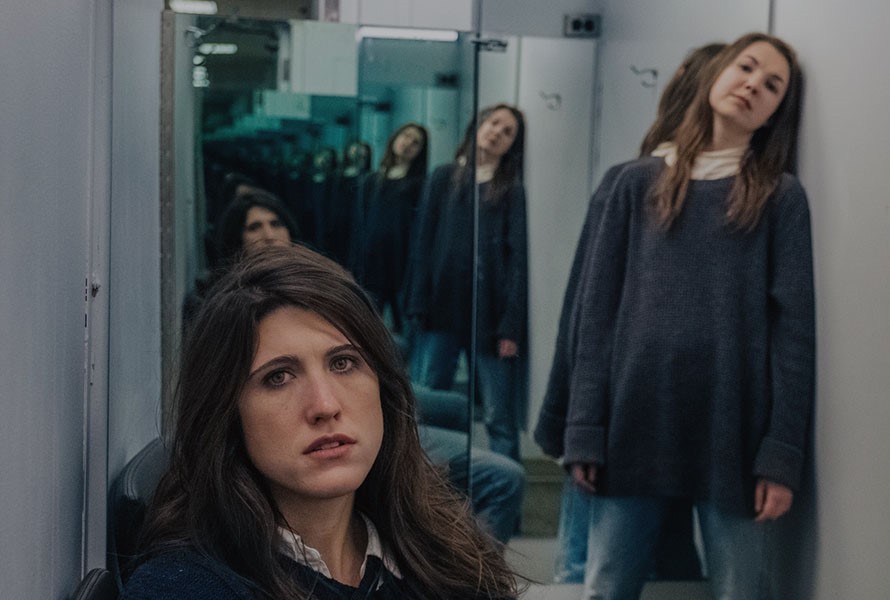 The Fireflies Are Gone and Mouthpiece are among the Canadian features in the new iteration of Canada's Top Ten.
Toronto International Film Festival has lifted the curtain on 10 features and 10 shorts set to take part in its new-look Canada's Top Ten, including Sebastien Pilote's The Fireflies Are Gone and Patricia Rozema's Mouthpiece (pictured).
Unveiled last month, the new iteration of the initiative offers Canadian feature films the opportunity to have a full theatrical run at the Bell Lightbox throughout 2019. TIFF Top Ten shorts will screen this winter as part of TIFF's year-round shorts programming.
This year's features lineup includes four directorial debuts, three projects from Indigenous filmmakers and the first feature-length film made in the Haida language – the award-winning Sgaawaay K'uuna ("Edge of the Knife", pictured) from co-directors Gwaai Eden and Helen Haig-Brown.
The other features chosen for Canada's Top Ten are Jasmin Mozaffari's directorial debut Firecrackers; Katherine Jerkovic's first feature Roads in February (Les routes en fevrier); Jennifer Baichwal, Nicholas de Pencier and Edward Burtynsky's environmental doc Anthropocene: The Human Epoch; Zach Lipovsky and Adam Stein's thriller Freaks; Keith Behrman's coming-of-age story Giant Little Ones; Christy Garland's documentary What Walaa Wants; Philippe Lesage's Genese ("Genesis"); Rozema's drama Mouthpiece; and Pilote's Fireflies Are Gone, which was named best Canadian feature at TIFF '18.
Shorts set for TIFF Top Ten include Charlie Tyrell's My Dead Dad's Porno Tapes, which won SXSW's documentary short competition, VIFF best Canadian short-winner Fauve from Jeremy Comte and the Sundance-bound copro Brotherhood from Meryam Joobeur. The seven other shorts selected are Ariane Louis-Seize's Little Waves ("Les petites vagues"); Matthew Hannam's Paseo; Sofia Bohdanowicz's Veslemoy's Song; Patrick Bouchard's The Subject ("le sujet"); Amanda Strong's Biidaaban ("The Dawn Comes"); Malena Szlam's Altiplano; and Accidence from Guy Maddin, Evan Johnson and Galen Johnson.
This year's Canada's Top Ten list was curated by TIFF's internal team in collaboration with the Vancouver Film Critics Circle and the Association quebecoise des critiques de cinema.
TIFF's Cameron Bailey, Kerri Craddock, Steve Gravestock, Danis Goulet, Ming-Jenn Lim and Kathleen Drumm oversaw the selection of features. Meanwhile, TIFF Short Cuts programmers Jason Anderson and Lisa Haller, Cinematheque coordinator Lydia Ogwang, Film Circuit manager Laura Good and senior manager, industry office Geoff Macnaughton, curated the shorts list.
A number of the features have secured significant sales in recent months. Mozaffari's Firecrackers was picked up by Seville International and Toronto-based distributor levelFILM, while Figa Films signed a deal for the international distribution rights to Jerkovic's Roads in February and Well Go USA Entertainment acquired Freaks for a release in North America, the U.K., Australia/New Zealand and Latin America. More recently, Firecrackers landed a U.S. distribution deal with L.A.-based Good Deed Entertainment and Behrman's Giant Little Ones secured a U.S. theatrical deal with Vertical Entertainment.
Image courtesy of TIFF