Five Canadian shorts headed to Sundance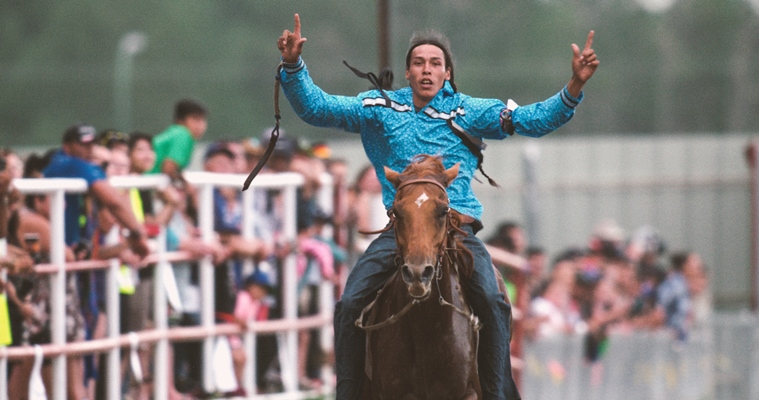 Eva Kaukai and Manon Chamberland's Throat Singing in Kangirsuk and Trevor Anderson's Docking will world premiere at the Utah-based fest.
Five Canadian shorts have been added to the Sundance Film Festival's 2019 lineup, with Throat Singing in Kangirsuk from co-directors Eva Kaukai and Manon Chamberland and Trevor Anderson's Docking set to make world premieres at the Utah fest.
Kaukai and Chamberland's Throat Singing in Kangirsuk, which follows the directors as they practice the art of throat singing in a small village in Quebec, will debut in Sundance's Documentary Short Film section. Meanwhile, Docking will screen in the International Narrative Shorts edition and explore Anderson's fear of dating.
In addition, writer/director Alexandra Lazarowich's Fast Horse (pictured) is the only Canadian short selected to screen on day one of Sundance. Other shorts selected for the first day of the festival include Fatherland (U.S.), Dunya's Day (Saudi Arabia/U.S.), One Cambodian Family Please for My Pleasure (U.S.), Lavendar (U.S.) and Muteum (Estonia/Hong Kong).
Produced by Edmonton-based Handful of Films, Fast Horse tells the story of a Siksika horseman on his way to challenge the best riders in the Blackfoot Confederacy. The CBC Short Docs film recently won ImagineNATIVE's Best Documentary Work Short Format, picking up a $1,000 cash prize. In addition to Fast Horse, another of Handful of Films' shorts, Boy Nomad (directed and produced by Niobe Thompson), was recently selected for the Banff Mountain Festival and will screen in 45 countries as part of a 12-month theatrical run.
Also making its U.S. debut is Meryam Joobeur's Brotherhood, a Canada/Tunisia/Qatar/Sweden copro. The TIFF Best Canadian short winner follows the tensions between a Tunisian shepherd's son and his father and will screen in the international narrative short section.
Canadian prodco Aston-6′s Chowboys: An American Folktale will screen in Sundance's International Narrative Shorts lineup. Chowboys tells the story of three mysterious cowboys who find themselves stranded on the coldest night in recorded history.
As well, a short film project from Canadian filmmaker Richie Mehta will world premiere in the Indie Episodic section, which is a showcase for creators of independently produced episodic content for broadcast, web and streaming platforms. Delhi Crime Story, written and directed by Mehta, follows the Delhi police during their investigation of a gang rape of a young woman on a bus in 2012.
Sundance 2019 runs from Jan. 24 until Feb. 3.