WFF '18: A Colony wins three Borsos prizes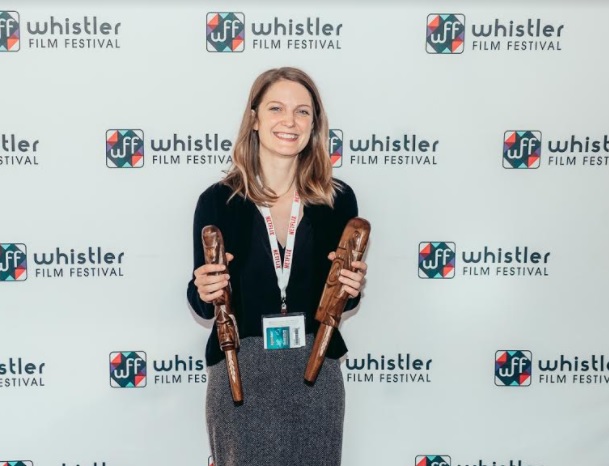 The debut feature from the Montreal filmmaker won the best Canadian feature prize, while The Fireflies Are Gone and Stockholm also claimed awards.
Geneviève Dulude-De Celles' debut feature A Colony claimed a trio of Borsos prizes including best picture as Whistler Film Festival (WFF) wrapped its 18th edition on Sunday.
The feature triumphed ahead of seventeen other Borsos selections such as Carolyn Combs' Bella Ciao!, Darlene Naponse's Falls Around Her, Zack Bernbaum's The Dancing Dogs of Dombrova and Deanne Foley's An Audience of Chairs.
A Colony, a coming-of-age drama about a shy girl who leaves her isolated community to attend high school, also won best direction and best performance (Emilie Bierre) in the Borsos category, with the jury praising the film's "strength of vision and raw authenticity."
For Montreal-based Celles (pictured), the award comes more than four years after her short film The Cut won the Short Film Jury Award: International Fiction at Sundance 2014.
The other Borsos prizes went to Robert Budreau's Stockholm, which picked up best screenplay prize for its "complex emotional clockwork that balances action, suspense and romance," while the cinematography award went to Michel La Veaux for his work on The Fireflies Are Gone.
Meanwhile, the EDA Award for Best Female-directed Feature, presented by the Alliance of Women Film Journalists, was jointly awarded to Rama Rau's Honey Bee and Sophie Dupuis' Family First, while the World Documentary Award went to Momentum Generation, directed by Jeff and Michael Zimbalist, and the Best Mountain Culture Film Award to Jimmy Chin and E. Chai Vasarhely's Free Solo.
In the short film categories, Meryam Joobeur's Brotherhood won the Canadian ShortWork Award, Georgia Fu's Miss World won the International ShortWork Award, Kama Sood's The Bus Stop won the ShortWork Student Award and Alayna Silverberg's B-Side claimed the MPPIA Short Film Award.
On Saturday, Jen Araki's project Slip Into Darkness won the WFF Power Pitch award, which is accompanied by $41,000 in prize money ($40,000 in production financing and $1000 cash prize).
Last year's Borsos prize for best feature film was jointly awarded to Ian Lagarde's All You Can Eat Buddha and Jason and Carlos Sanchez's A Worthy Companion.