Shelley Thompson wins WIDC's Feature Film Award
The Nova Scotia filmmaker behind Duck Duck Goose will use the $200,000 prize towards her first feature, Dawn, Her Dad & the Tractor.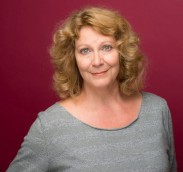 Nova Scotia-based filmmaker Shelley Thompson has won the Women In the Director Chair's annual WIDC Feature Film Award.
Designed to encourage more female directors, the prize entails in-kind services and rentals valued at up to $200,000. Thompson will use the funding towards her debut feature, Dawn, Her Dad & the Tractor, the story of a young transgender woman who returns to the family farm to reconnect with her estranged father and attend her mother's funeral. The drama, which was selected for Telefilm's micro-budget production program in last year, is set to be produced by Halifax-based Picture Plant's Terry Greenlaw and will be shot in Nova Scotia.
Thompson's past work include the short's Pearls and Duck Duck Goose, which recently picked up FIN Atlantic's best short film prize. She is also known for her roles on TV shows like Trailer Park Boys and Sex & Violence. In addition, she recently acted in writer/director Thom Fitzgerald's Splinters, a Nova Scotia-set drama that made its world premiere at TIFF this September.
The filmmaker joins past WIDC Feature Film recipients like Katrin Bowen, Lulu Keating, Ana Valine, Siobhan Devine, Jordan Canning and Kathleen Hepburn. This year, camera's recently rolled on three projects from past WIDC Feature Film winners: Marie Clements' Red Snow, Sonia Bonspille-Boileau's Rustic Oracle and Gloria Ui Young Kim's Queen of the Morning Calm.
In addition to this award, Thompson was recently selected to take part in WIFT-AT's newly launched Shadow Project, which aims to give female directors the opportunity to shadow senior professional directors in Atlantic Canada. She is also a past writer participant of the CFC's 2015 Cineplex Entertainment Film Program, a course that provides a select few with marketplace strategies for their film projects.