Get your indie film a passport, but do your homework first
Whistler Film Festival: Execs from Rhombus, XYZ and Sepia dish on the pitfalls, politics and opportunities of coproducing in China, Europe and South Africa.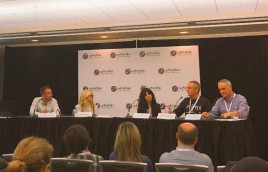 As Harold Greenberg Fund president John Galway told delegates at Whistler Film Festival on Thursday, the funding available for an indie-film project in Canada begins to "tap out" at around the $4-million mark, and that's when domestic producers must turn to the international market to source additional funding.
But, with international markets changing as quickly as Canada's, finding partners and securing financing is more challenging today than perhaps ever before.
Knowing which markets to target – whether for talent, production expertise or funding - formed the basis of the "Crossing Borders: Finding and Financing Stories That Travel" panel on day one of Whistler's Content Summit. The discussion was moderated by Galway and featured Telefilm feature film executive Stephanie Azam, Sepia Films co-founder Tina Pehme, Rhombus Media producer Kevin Krikst and XYZ Films' head of international acquisitions Todd Brown.
While Canada's total film-coproduction output has fallen in recent years (according to Telefilm, the combined budgets for Canadian film copros fell to $110 million in 2017, from $151 million in 2016 and $235 million in 2015), panelists emphasized that the need for Canadian companies to coproduce has never been greater.
China, Europe and South Africa were among a number of territories discussed.
For domestic film producers, the Chinese market represents almost boundless potential, said Brown, who also spearheads the strategic partnership between XYZ and Toronto prodco Impossible Objects. Canada and China have long had a treaty copro on the film side, with the agreement being renewed last year. However, while the potential upsides of a China-Canada coproduction are many, there come with it a multitude of challenges, noted Brown.
"China is the golden goose in the industry – it's where all the money is. But be aware of what you're walking into," he said of the country's censorship laws.
Pehme added that Sepia had run into troubles of its own during a multi-year development cycle on a China copro. "What we found as we got in deeper and deeper with a copro partner was that the script was going to need to be changed significantly to meet censorship [requirements] – it wasn't going to end up being the same movie," she told delegates. Sepia ultimately did not move ahead with the project.
Another aspect to consider, noted Brown, is whether the Chinese company is able to move capital outside of the country. "Your Chinese company might have a good history, track record and creative taste, and obvious success in making things and distributing them within China, but can they get their money out of China? A great many of them cannot," said Brown. "There are very hands-on currency export laws right now in terms of how much money people can put out of the country without direct government approval," he added.
Panelists also discussed the viability of partnering with European territories, especially in light of Canada's entry to the Eurimages film fund last year.
"It can be a really key piece [of financing]," said Brown, noting that the fund is currently under-subscribed in terms of Canadian applicants. Telefilm makes an annual contribution of $1.5 million to the fund each year. The process sees copro applicants putting together proposals which are then pitched to the Eurimages board by Telefilm.
However, it can be hard to predict which projects will receive funding through the fund, said Telefilm's Azam. "I always tell producers, your guess is as good as mine whether you're going to get it. It could look super obvious that this movie has to be funded, and it doesn't, and others really surprise us, so it's worth trying, if you meet certain criteria," she said.
The most recent Canadian feature to secure Eurimages support is Andrew Cividino's Furies. The Canada/Belgium copro, produced by Rhombus and Belgium-based GapBusters, netted CAD$541,000 (€360,000).
Because Cividino's script is set in a completely fictional European town, Krikst said Rhombus wasn't beholden to shooting in one particular country. As a result, the Rhombus team explored the possibility of coproducing the project with countries such as Germany, Austria and the U.K. While the research gave them a broader knowledge of the opportunities in Europe, they eventually landed on Belgium due to its government-approved tax shelter for audiovisual works, as well as the option to apply for Eurimages. Brown also said XYZ had produced its recent feature Mandy, written and directed by Panos Cosmatos and starring Nicolas Cage, out of Belgium.
Elsewhere, Brown highlighted South Africa as a country boasting a burgeoning local industry, with XYZ in development on a number of projects originating there. "There is an incredible talent base, literary community and material to tap that has largely been overlooked," he said, adding that cheap labour costs make it a financially savvy shooting location.
"This current literary generation are the freedom generation. They're the people that were 10 to 12 years old when apartheid ended, and so they had come of age and been aware of that system and lived the entire transition, and now they're living with the disillusionment of it not working. There's a lot there that's incredibly relevant," said Brown.