Canadian doc, three coproductions among Sundance 2019 lineup
Anthropocene will screen in Sundance's Spotlight sidebar and the other two copros are set to screen in the World Cinema Documentary competition.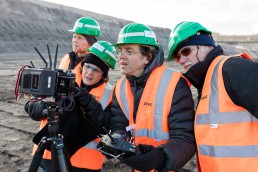 Canadian documentary Anthropocene: The Human Epoch will be featured in the Spotlight sidebar at the Sundance Film Festival in Park City, Utah, which runs from Jan. 23-Feb. 2, 2019. The festival unveiled its 2019 lineup on Tuesday.
The documentary is the third installment of a series of documentaries by directors Jennifer Baichwal, Nicholas de Pencier, and Edward Burtynsky (pictured) that portrays the devastation to the environment caused by human interference and activity. Anthropocene had its world premiere at the 2018 Toronto International Film Festival and its Sundance screening is termed as an international premiere.
Three Canadian coproductions are also among 12 international documentaries in the World Cinema Documentary competition. Advocate (Israel/Canada/Switzerland), directed by Rachel Leah Jones, Philippe Bellaïche, and produced by Canadian Paul Cadieux (The Triplets of Belleville), follows a Jewish-Israeli lawyer who has represented Palestinian political prisoners for decades. Cadieux is also heading to Sundance with Gaza (Ireland/Canada) from co-directors Garry Keane and Andrew McConnell. The doc, which offers a portrait of the Palestinian city, will make its world premiere at the festival.
Midnight Traveler (U.S./Qatar/U.K./Canada), directed by Hassan Fazili, shows Fazili and his family's fight for survival after the Taliban placed a bountry on his head and they were forced to flee. The documentary was the recipient of the Hot Doc Film Festival's CrossCurrent Doc Fund.
There's a Canadian connection for another project in the lineup, with A24′s Share, written and directed by Pippa Bianco, also slated to screen in the U.S. dramatic competition program. The project was shot in Toronto earlier in the year and is service produced by Matt Code's Wildling Pictures.
Anthropocene: The Human Epoch was released in Canadian cinemas Sept. 13, 2018, and has earned more than $340,000 in the domestic box office.