Phil Lind on mega-deals, disruption, working alongside Ted Rogers
Playback chats with Lind about his recently released memoir, Right Hand Man, which documents his four decades working with the legendary Canadian businessman and philanthropist.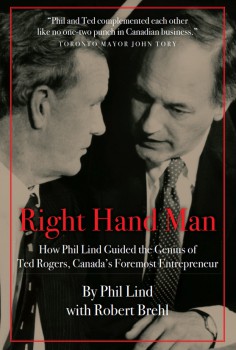 For nearly five decades, Phil Lind has been a critical cog in the Rogers machine. Four of those decades were spent in the boardroom alongside the company's founder, legendary Canadian businessman and philanthropist Ted Rogers. This crucial time in the evolution of the Canadian TV industry is the focus of Lind's memoir, Right Hand Man, released on Nov. 3 and which documents the media company's evolution from startup to domestic behemoth. Lind joined Rogers in 1969 as programming chief and stepped down from his post EVP of regulatory at Rogers in 2014. He remains on the board.
Here, Playback Daily catches up with Lind to discuss his new book, the mega-deals that shaped modern Rogers, and working side by side with the iconic Ted Rogers.
Playback: Why was now the right time to sit down and write this book?
Phil Lind: I've almost been with Rogers for 50 years, so it's a good time to reflect and look back on things. I thought it was important that the people that are new here knew more about the company's roots. A lot of people think Rogers was always Rogers – but it wasn't. Rogers was nothing 50 years ago. So how we pieced together the empire with Ted is a story that I think is useful to be told.
PB: The team of yourself and Ted Rogers had a big impact on the history of Canadian media. Why do you think the partnership worked so well?
PL: We had great respect and affection for each other, and we pushed each other all the time. I'm not saying that things were always great between us, because they weren't. We argued a lot. Over time I think the partnership seemed to work, and especially seemed to work when it came to acquisitions before the CRTC.
PB: Among the biggest deals that you and Ted Rogers stewarded was the acquisition of the Blue Jays, and later Sportsnet. How did those deals come together? 
PL: It was [out] on the street that the Blue Jays were for sale, and there was definitely concern that a Toronto contingent could not muster the money. That may well have taken the team somewhere else – this was a real concern to Ted. At the time, Ted had money in his pocket because we'd recently been sidelined from getting the Videotron deal and we had received a breakup fee. Not getting Videotron was very, very disappointing for Ted, but when one door closes another one sometimes opens.
One thing about Ted Rogers was that if he had $100 million or $200 million in his pocket, he was damn well going to go out there and spend it as quickly as possible. He never saved a nickel, it was always about putting back into growing the system, growing the company. The other thing we were impressing on him was the fact that live sports is something people would always watch. I don't think we knew then how important that statement was, but, certainly for the cable companies, it's vitally important. Everything else you get online, but if the Blue Jays play Chicago tonight there's only one place to get it and there's only one time to watch it, and that's Rogers cable.
PB: When did you realize how huge that deal would be?
PL: We started to realize it very soon after, but it kept getting more and more obvious. The other thing was that we wanted Sportsnet, and that was something we had to work very hard to get because the CRTC was in a monopoly mode, and couldn't see any reason at all why Canada would need more than one sports network. And, of course, cable companies were seen as a pariah of the system, so we could own no more than 20% of any network. So we stitched the thing together with CTV, Molson and FOX Network and we went to the CRTC a couple of times before we managed to get a licence. At first the ownership structure was 40% CTV, 20% Rogers, 20% Molson and 20% FOX U.S. Eventually we assumed 100% control of the whole company over about a five-year period, and we really drove it from that. Later we bid for the NHL, got it, and as soon as we had that our network was solid. People had to take it then because it had the NHL and TSN didn't anymore. So all of these things fell into place, but they were very hard to orchestrate at the time.
PB: What do you think of the Canadian cable and broadcast industry in 2018?
PL: I think we've got a lot of problems, but there are also encouraging signs. The encouraging signs are that the Canadian companies are strong and vital ones. 5G is going to be rolled out by Rogers, Bell and Telus, and it's going to be terrific. It's going to have a revolutionary effect on everything. Our agricultural industry, our manufacturing industry, everything is going digital and we're there to assist in that process. So from the wireless standpoint, it's all systems are go. It's a good-news story.
The broadcasters, of which we are one, is a troubling one because I think that over time, although I certainly agree with the Canadian government's push to support Canadian content, it's a really tough assignment. When 20 of the biggest programs in Canada are all American, it's a problem. So I think that's going to be an ongoing issue, how much support and how effective that support is going to be over time. Also, the regulation that goes on at cable and broadcasting companies is almost unbelievable. It's just so micro. Some of that has got to be taken off, that's all there is to it. Because these are good companies and they've got people with good ideas but if they can't put any of them into effect because of regulation, they're going to be regulated into the ground. Who benefits from that?
PB: How do you look back on the past 50 years in the industry?
PL: It was a crazy time. We were certainly having a good time but we worked terribly hard and managed to achieve a pretty good result.  We were lucky and fortunate that Ted was steering the ship – with some assistance, but steering the ship for sure.