In Brief: WIFT-T names Emma Fleury to CBC mentorship
Plus, Bitter Boy Productions options Shani Mootoo's novel Cereus Blooms At Night and CBC/Radio Canada announces its new English services ombudsperson.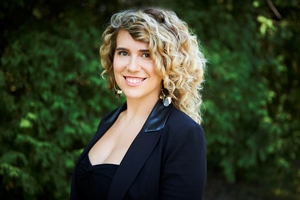 WIFT-T names its 2018 CBC Business of Broadcasting Mentorship recipient
Women in Film and Television – Toronto (WIFT-T) has selected producer Emma Fleury (pictured) as its 2018 CBC Business of Broadcasting Mentorship recipient. Through the program, which is now in its 12th year, the producer will take part in a week-long intensive course in which she will learn about the pubcaster's operations. Fleury was recently appointed director of development at Toronto-based Buck Productions, where she is responsible for expanding the prodco's development slate. Prior to her new position, she served as a development producer at RTR Media and held various roles at General Purpose Entertainment and 9 Story Media. She will be recognized at WIFT-T's annual Crystal Awards on Dec. 4, 2018.
Cereus Blooms At Night optioned by Bitter Boy Productions
Toronto-based Bitter Boy Productions has optioned the film and TV rights to author Shani Mootoo's debut Cereus Blooms At Night. The novel, which was a past finalist for the Giller Prize, the Ethel Wilson Fiction Prize and the Chapters/Books in Canada First Novel Award, follows the story of an old woman who is suspected of murdering her father. Cereus Blooms At Night was optioned by Bitter Boy's Aaron Barnett in a deal with the Transatlantic Literary Agency's Samantha Haywood.
Jack Nagler appointed CBC's new English services ombudsperson
CBC/Radio-Canada has named Jack Nagler, senior director of journalism (public accountability and engagement), as its new English services ombudsperson. In the role, Nagler will handle complaints from the public about the pubcaster's English news department. He will operate independent and report directly to the organization's board of directors through the president and CEO Catherine Tait. Nagler recently served as a co-author of the pubcaster's newest Journalistic Standards and Practices guide. "Jack's experience and deep commitment to journalistic ethics makes him the perfect person to uphold our commitment to being transparent and accountable to Canadians," said Tait in a release. Esther Enkin, who was appointed in 2012, will stay on as ombudsperson until her retirement at the end of December.