Love Nature commissions Malawi Wildlife Rescue
Produced by U.K.-based prodco Icon Films, the six-part, one-hour docuseries follows a veterinarian and her team as they rehabilitate animals in East Africa.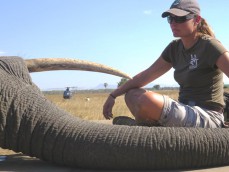 Blue Ant Media's joint venture with Smithsonian Networks, Love Nature, has greenlit docuseries Malawi Wildlife Rescue from Bristol, U.K-based Icon Films.
The six-part, one-hour series follows Dr. Amanda Salb, head of veterinary services at Lilongwe Wildlife Centre, and her team as they rehabilitate hundreds of animals each year. Salb is the only veterinarian in East Africa who is skilled at treating and capturing large game.
Exec producers on the show include Stephen McQuillan, James Manfull and Alison Barrant. Jo Robinson serves as series producer.
Malawi Wildlife Rescue will air on Love Nature's 4K linear and streaming video platforms internationally and via the Smithsonian Channel in the U.S. and on Love Nature in Canada. Blue Ant International oversees series licensing.
This greenlight announcement follows Blue Ant Media's recent acquisition of Toronto-based factual producer Saloon Media, whose credits include Tornado Hunters, See No Evil and Mummies Alive.
This year alone, Love Nature has commissioned Dogs with Extraordinary Jobs (5 x 50 minutes) and Orangutan Jungle School  (10 x 60 minutes). Produced by Oxford Scientific Films and dog trainer Victoria Stilwell's Positively, Dogs with Extraordinary Jobs follows how dogs natural abilities can be harnessed to creative and beneficial ways. Meanwhile, Orangutan Jungle School is produced by Blue Ant's NHNZ and tells the story of a group of orphaned orangutans as they progress through a unique forest school system with the Borneo Orangutan Survival Foundation (BOSF).
Image courtesy of Lilongwe Wildlife Trust