Hummingbird Project lands in 25 international territories
Kim Nguyen's latest feature will be distributed in the U.K., Australia, Germany and others, following its U.S. and Canadian releases.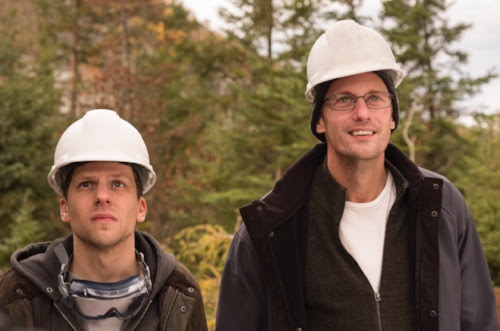 London, U.K.-based distributor HanWay Films has sold Kim Nguyen's latest feature, The Hummingbird Project, to more than 25 countries, including the U.K., Spain and Australia.
The Canada/Belgium copro, which premiered at TIFF, is produced by Item 7 and Belga Productions. It stars Jesse Eisenberg and Alexander Skarsgaard as two New York City traders who plan to build a fibre-optic cable from Kansas City to New Jersey in an effort to give them a leg up on their trader competitors.
Following an early 2019 release in Canada via Elevation Pictures, the U.S. through The Orchard and Benelux through Belga, the film will be distributed in the U.K. (Vertigo Releasing), Germany and Austria (Concorde Film/TMG), Australia and New Zealand (Madman), Spain (DeAPlaneta), Japan (Hakuhodo DY MaP), Middle East (Front Row), China (Leomus), Bulgaria, Czech Republic, Slovakia, Hungary and Romania (Prorom), the Baltic States (Hea Film), former Yugoslavia (Discovery), Switzerland (Ascot Elite), CIS (Luxor), Israel (Shoval), Portugal (NOS), Turkey (Sinema) and Greece (Odeon ), airlines (Cinesky), the Southeast Asian TV (FOX Networks Group Asia), in Taiwan (Shenghua Entertainment), Thailand (M Pictures) and finally Singapore (Shaw).